Journalism students address community issue through Indy Star partnership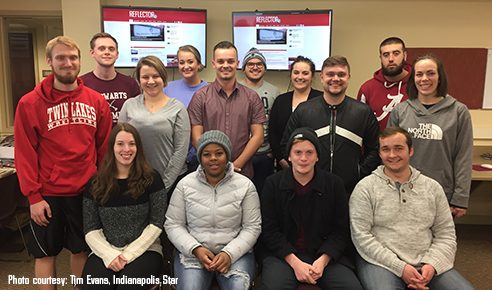 A unique partnership between the University of Indianapolis and the Indianapolis Star provided journalism students with valuable hands-on experience in the field–and the opportunity for a byline in Indiana's newspaper of record.

Students in the Investigative Reporting course published a story in the Indy Star that shed light on how the City of Indianapolis Mayor's Action Center handles complaints. The months-long investigation, published in December 2017, examined data from the Mayor's Action Center and found, for example, that poorer neighborhoods wait longer for pothole fixes.
Jeanne Criswell, associate professor and director of the Department of Communication's journalism program, taught the course, which brought together 14 students to work with the Indianapolis Star's Alvie Lindsay, news and investigations director, and Tim Evans, investigative reporter and consumer advocate. Criswell said the Indy Star journalists served as role models, mentors and editors as students applied their skills in information gathering, verification and analysis and publication.
"The Indianapolis Star partnership and the expectations of its dedicated journalists gave the students an invaluable, project-based professional experience and inspired them to produce some insightful investigative reporting," Criswell said.
Read the investigative story here.

The students who contributed were Zoë Berg (Reflector editor-in-chief), Erik Cliburn (Reflector managing editor), Tyler Conrad, Laken Detweiler, Chelsea Faulk, Kaley Gatto, Tanner Gurin, Anthony Lain, Emily Mills (WICR operations manager), Elisha Sellars, Skylar Sigman, Kieffer Simpson, Dallas Thacker and Ryan Wright-Jordan.
The University's Department of Communication has enjoyed a long history of experiential learning with the Indianapolis Star, including guest lectures and hosting students for on-site visits.
Publication wasn't guaranteed, Criswell noted. The course was designed to allow students to collaborate with the Indy Star journalists on the project and only "if the resulting work merited, to publish that content both in print and online."
Meeting the expectations for publication was a clear goal for the students, who praised the department for offering real-life experience and the opportunity to work with professional journalists.
"Working with the Indianapolis Star, I wanted to do my best in order to make my work worth being in the paper. Now, after looking at the printed and online version of our story, it makes me feel accomplished as a student and proud to have had this opportunity," said Kaley Gatto, '18 (communication major, experience design minor), who handled still photography for the project.

Dallas Thacker, '17 (communication), created a graphic that accompanied the story. He came to appreciate how much effort goes into an investigative reporting project.

"The idea to have this type of class where you work directly with professionals in the career paths that we're looking to pursue is absolutely outstanding," Thacker said.
Criswell said the department consistently collaborates with a wide variety of news organizations for internships, guest lectures, consultations and judging. Faculty also work with the news media on a regular basis in their roles with various journalism organizations such as the Indiana Collegiate Press Association, Indiana Association of School Broadcasters, Society of Professional Journalists and others.