University hosts 50th annual regional theatre festival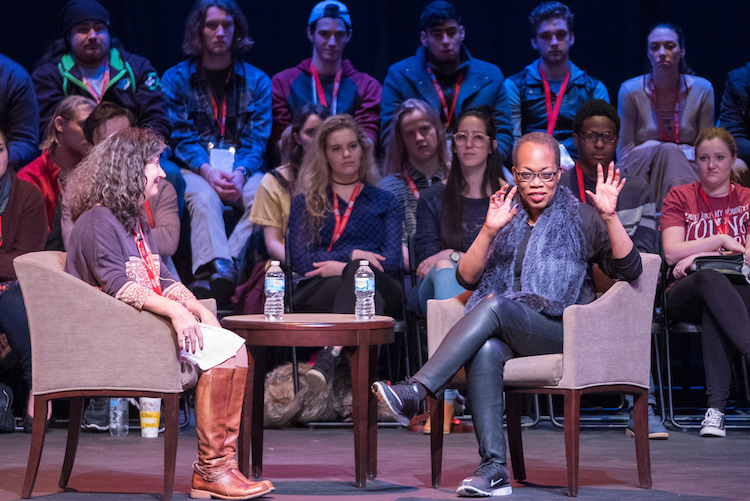 About 1,400 theatre enthusiasts from Michigan, Illinois, Indiana, Ohio and Wisconsin gathered at the University of Indianapolis recently for the 50th annual Kennedy Center American College Theater Festival (KCACTF).
The Department of Theatre hosted the week-long festival for Region III in January 2018. It was one of eight regional events across the country.
The festival included theatrical performances, workshops, scholarship competitions for acting, design and stage management students, along with professional networking opportunities.
"It's a lot of fun to be immersed in theatre for a week," said Penny Sornberger, associate professor of costume design. "It opens up opportunities for our students to meet fellow students from other schools, form new bonds, network with professionals in the field and get feedback on their work."
About 30 University theatre students volunteered for and competed in the festival. *See a complete list of student competitors below.
Notable achievements included:
Carly Wagers '20 was a semifinalist in the Regional Design Projects Competition, ranking in the top 10 percent of 200 entries.

Zech Saenz '19 won the Design Storm Competition for directing "The Most Wretched Deathbed Fever Dreams of Edgar Allan Poe."

Daisy Grey '19 (director) and Jade Lynch '19 (sound design) were runners-up for their work on "La Boheme."
Six theatre faculty members were instrumental in organizing activities: Penny Sornberger, Brad Wright, James Leagre, Casey Kearns, Christian McKinney and Jodi Bush.
During the festival, University Production Manager Christian McKinney received the Region III Faculty Service Award. Peers throughout Region III voted, selecting McKinney as the winner for her expertise in planning the event.
"It's great to be recognized for all the hard work that went into this festival," McKinney said. "The reason we do this is for the students. The experiences they gain and the contacts they make at this festival will help them far beyond their time here at UIndy."  
Festival organizers persevered despite severe winter weather that threatened to interrupt scheduled events.
"We feel the festival was very successful, even with all the weather issues," Sornberger said. "The show must go on. We're theatre folks; that's what we do!"
Congratulations to all University theatre students who competed:
Irene Ryan Scholarship Auditions:  
     Stephen Cox '18 & partner Carly Wagers '20
     Mary Schreier '19 & partner Thomas Tutsie '20
     Katie Carter '20 & partner Clayton Rardon '21
     Zech Saenz '19 & partner Kelly Casey '19
National KCACTF Awards for Theatrical Design Excellence Competition   
    Jade Lynch '19;  Sound Design for "Frankenstein"
National KCACTF Allied Design and Technology Award Competition
     Liesel Schmitz '20;  Creature Arm design for "Frankenstein"
     Pat Kizer '19;  Special Effects Makeup for "Frankenstein"
10-minute Play Festival
     Stephen Cox '18 Director; "Little Debbie"
Regional Design Projects Competition
     Emily Hart '19;  Costume Designs; "Eurydice"
     Carly Wagers '20; Costume Designs; "La Boheme"
Design Storm Competition
     Pat Kizer '19; Make up Designer; "Eurydice"
     Kristine Storms '18; Costume Designs; "His Dark Materials"
     Daisy Grey '19; Director; "La Boheme"
     Jade Lynch '19; Sound Design; "La Boheme"
     Elizabeth Hollbrook '18; Director; "Henry V"
     Emma Rund '20 ; Dramaturgy; "Henry V"
     Emily Hart '19; Costume Designs; "Henry V"
     Zech Saenz '19; Director; "The Most Wretched Deathbed Fever Dreams of Edgar Allan Poe"