Garfield Park Arts Center features works by University of Indianapolis faculty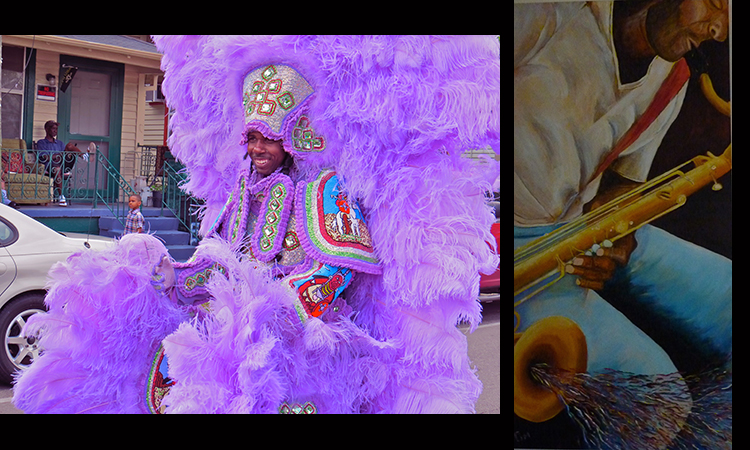 The artwork of two University of Indianapolis faculty will be on display at the Garfield Park Arts Center in February. The opening exhibition for "Celebrating Black History Month: Heroes" takes place from 6:00 to 8:00 p.m. on Feb. 2, 2018, as part of citywide First Friday events.

Greta Pennell, professor of teacher education, and Tim Maher, professor of sociology, each submitted three works for the exhibition, which explores the question of what defines a hero and honors African-American heroes through the lens of local artists. Both Pennell and Maher are longtime artists whose work has been displayed at numerous local and national galleries.

Pennell, whose photographs are part of the exhibition, said she takes her inspiration from the natural world, but her work as a social psychologist has drawn her attention to "the intersection of human action, culture and nature. It is this latter focus that has shaped my understanding of heroes and images for this exhibit," she said.
"Perhaps just as the tiny details in nature is what catches my eye, it is the unsung heroes that first come to mind for me. The folks on the second rather than front line, those who work tirelessly to celebrate and preserve our cultural traditions," Pennell added.

Maher's acrylic paintings also will be on display, including "Guitarist," "Sax on Fire" and "Hands Up." Those works are part of a larger exhibit, "Up Against the Wall: The Art of the Social in Image and Text," which Maher exhibited at a New Orleans gallery and at a sociology conference in Denver.

Maher began painting in graduate school and has combined painting and sociology throughout his career.  His paintings in the exhibit express a sensitivity toward community life and cultural expression informed by years of social research and activism.
"I increasingly incorporate paintings as a way to communicate sociological knowledge and understanding," Maher said.
The Garfield Park Arts Center is located at 2432 Conservatory Drive Indianapolis, IN 46203  Tel: (317) 327-7135. More info at: https://www.gpacarts.org.