Pack the House tradition expands with student-composed spirit song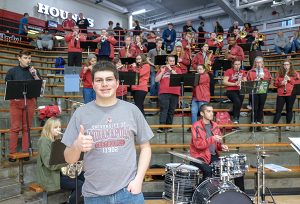 The 2018 Pack the House event at Nicoson Hall featured fun for Greyhounds hoops fans, honors for senior athletes and recognition for a longtime state representative. Saturday also saw the debut of a spirit song that builds on the University's athletic traditions.

The men's basketball team capped off its regular season with an 82-73 senior day win over Wisconsin-Parkside (9-19, 7-11 GLVC), while the women's team wrapped up the season with a hard-fought 79-73 loss versus Wisconsin-Parkside.
President Rob Manuel presented Rep. Bill Friend '71 with a presidential proclamation recognizing his legacy of public service. Rep. Friend will retire in 2018 after 26 years as a member of the Indiana House of Representatives.
As an additional treat for fans, halftime of each game featured the UIndy Pep Band performing a spirit song written by Grant Boyer '21 (creative writing). Boyer, a freshman, answered President Rob Manuel's recent challenge to first-year students to come up with a memorable song for the Pep Band to perform during athletic events, in addition to the University's traditional fight song.
Grant, who is considering a music minor, took on the project and has been working with Department of Music faculty since arriving on campus last semester.
"After orientation, I set my mind to work to try and come up with a song. Thankfully, I was a bit accustomed to the march style and eventually had the first iteration of the song in my head," Grant said.
"We're excited to see the results of all the hard work by Grant and the Music Department. One of the things that really inspired me about this project is how excited Grant was to be involved and how our campus community embraced the idea of exploring an additional Greyhound fight song," said University President Rob Manuel.
The "Go Greyhounds" project was a little bit of a surprise to Grant's musical family. His grandfather, Doug Finke, is a trombonist with years of experience playing Dixieland jazz in the Midwest and is Grant's private music teacher. The idea was embraced by University leadership as a way to try something different and build new traditions among sports fans on campus.
"I'm surprised it's a fight song and not jazz or classical, but we've always pushed him these last couple of years to do something different," said Marsha Boyer, Grant's mother, who explained that Grant was eager to take on the president's challenge.
Self-confessed high school marching band geeks, Marsha and her husband, Brian, said Grant has become more interested in music in the past few years. Grant worked with several Department of Music faculty and his grandfather to create the new song, titled, "Go Greyhounds." Grant created the melody and lyrics, while his grandfather arranged the score.
"The first thing I had was the melody. The lyrics were more of a struggle, since I had a melody already and had to find the most fitting words I could," Grant said.
Vu Nguyen, assistant professor of music and director of bands, worked with Grant and his grandfather during rehearsals with the pep band.
"This project brought together a number of our students, both music and non-music majors, as well as faculty and community members in a unique collaboration. It's terrific to see and hear Grant's creativity shine through in his music," Nguyen said.
Lyrics:

Stand for the Greyhound nation,
of UIndy, our center, of pride,
Vying for domination,
as we lead our team to victory tonight!
Fight! Fight! Fight!
Hail, to our hallowed taditions
and our spirit ever strong
Onward Uindy, onward UIndy,
to you we're always true!
[shout at end] Go Greyhounds!