Tuskegee University Choir performs special engagement at the University of Indianapolis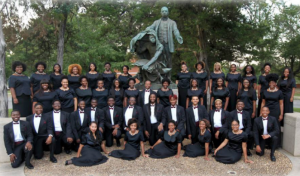 INDIANAPOLIS – The 42 "Golden Voices" of the Tuskegee University Choir will fill the air at the Ruth Lilly Performance Hall in the Christel DeHaan Fine Arts Center March 12, 2018. The special engagement is part of their international spring tour. The concert is scheduled from noon to 1:00 p.m.

"We look forward to hosting a performance by this renowned group of talented singers at the University of Indianapolis," said Brenda Clark, Department of Music chair.

The famous Tuskegee Choir is an organization steeped in more than a century of pride and rich choral history. Founded in 1884 by Booker T. Washington, the choir continues its great tradition of singing African-American spirituals to this day by performing across the United States and Canada.
The March 12 performance marks the Tuskegee Choir's debut at the University of Indianapolis. They will perform traditional choral works such as"Hear My Prayer, O Lord," by Henry Purcell and spiritual arrangements by African-American composers.

"We're excited to share the legacy of Tuskegee University with the University of Indianapolis and the broader Indianapolis community," said Wayne Barr, choir director.
The Tuskegee Choir has served as an artistic model while carving a distinguished place in American history. Under the leadership of the renowned composer and educator William Levi Dawson, the Choir rose to international prominence with appearances at Radio City Music Hall in New York City and the White House, Constitution Hall, and on a host of popular television programs.
The concert is free and open to the public. No registration is required. Click here for more information.