Visiting Fellow Greg Ballard launches student leadership development program with call to embrace change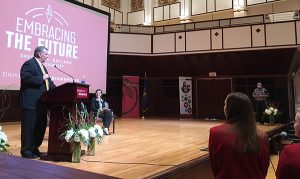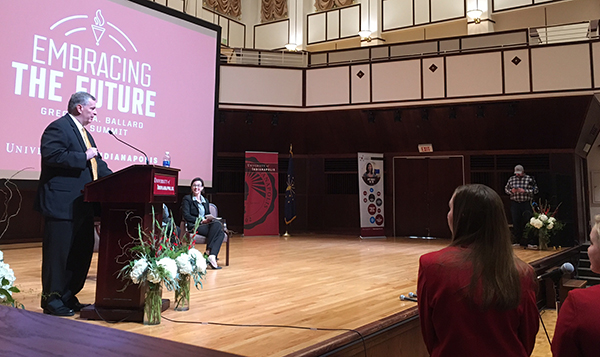 INDIANAPOLIS – Hundreds of high school sophomores from around the region recently attended "Embracing the Future," a program designed by Visiting Fellow and former Indianapolis Mayor Greg Ballard to grow leadership skills by teaching students to perceive change in a positive way.

The students, who were nominated by their high schools from around the region, have interests in technology, business, environment and sports – all issues that Mayor Ballard cited as catalysts for change throughout the years. Students participated in workshops focusing on influential leaders in local industries, including topics such as the "Future of Sports," "Innovation," "Fail Fest: Celebrating Failure's Role in Innovation" and "Oil and National Security."

Citing tech visionaries like Bill Gates, who foresaw the concept of the smartphone in his 1999 book, "Business @ the Speed of Thought," Ballard talked about change not only as a constant in history but also something that can have unforeseen effects on the world. From the early days of television and telephone communication to microprocessors and Snapchat, Ballard traced the evolution of technology and challenged students to understand the implications of new inventions.

"You must not only study history, but also understand the moral and ethical values that are needed in a world where the pace of both technological and social change is so much faster than in past decades," Ballard said.
In a question and answer session following Ballard's talk, students were ready to meet the challenge. Their questions ranged from preventing gun violence to bridging the digital divide to make technology accessible to underserved communities.
One student asked if his generation was prepared for the foreseeable – and unforeseeable – future. Ballard answered in the affirmative, and urged students not to get discouraged by failure.
"You are more aware and want to take action. Don't think the world is falling apart. People do come to the forefront and do try to change things," he said.
Another student asked about the impact of social media on public discourse. Ballard encouraged students to pursue wisdom and compassion when they encounter opposing viewpoints – both online and in person.
Ballard praised the students' generation for developing the savvy to navigate new technologies, which prepares them to handle inevitable changes.
"With technology, you can learn so much more about the world, and about history. Why did this happen? What can we do to prevent that sort of thing in the future? Use technology to become wiser," he said.
Lugar Academy
In addition to "Embracing the Future," University initiatives such as the Lugar Academy encourage high school students to pursue skills in leadership and service. Retired Sen. Richard Lugar, who has hosted the Richard G. Lugar Symposium for Tomorrow's Leaders on campus for more than 40 years, works with students to identify the most pressing current events and political issues of our time.
Institute for Civic Leadership and Mayoral Archives
Ballard, the former two-term Republican mayor of Indianapolis,  now serves as a Visiting Fellow for the Institute for Civic Leadership and Mayoral Archives at the University of Indianapolis. He mentors students and creates programming to help them develop leadership and civic management skills.
The goal of the Institute is to connect the community with Indianapolis' civic history by working closely with previous mayors and their staffs to collect and preserve photos, documents and other resources that were critical in establishing Indianapolis as a world-class city. The Mayoral Archives are available digitally at uindy.historyit.com. The Institute hosts the annual Richard M. Fairbanks Symposium on Civic Leadership each year at the University, at which civic leaders and community builders examine a topic important to the future growth of the city.