Audrey Cunningham reflects on 24 years leading UIndy Speech & Debate Team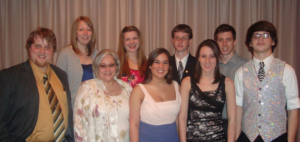 The University of Indianapolis Speech & Debate team has been winning regional and national accolades for more than 30 years, thanks in large part to Audrey Cunningham, the former team director. For 24 years, Cunningham, who serves as Basic Course Director in the Department of Communication, has been coaching students to success behind the podium and beyond.

Cunningham has enjoyed helping students develop lifelong speaking and debate skills that are easily transferable to a variety of careers. The speech team is open to all majors, and the students Cunningham has coached over the years have pursued successful careers in a variety of disciplines, including public relations, broadcasting, law, school counseling and secondary education.

"We encourage different majors because it's one of those skill sets that transcends everything," she explained.

Cunningham noted that the most dramatic improvements tend to happen during a student's first year.

"That freshman year, they are learning all the basics. A lot of times they can be more successful that year because there are tournaments they can compete in with other novices of the first year. They're competing more on par," Cunningham said.
By senior year, Cunningham said that students have acquired a broad range of speaking skills. The competitions stretch students' skills by challenging them to compete in extemporaneous, informative and persuasive speaking, as well as prose, poetry, duo and impromptu formats. There's even a category for after-dinner speaking. Students are required to discuss topics ranging from voter disenfranchisement to gun control.
"The more people participate, the more confident they become in their abilities," Cunningham said.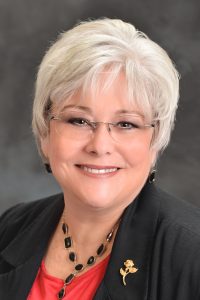 Under Cunningham's guidance, the team earned the University's first team title in 1990 from the National Forensic Association (NFA). Over the years, UIndy's team has placed several times among the top ten in the Team Sweepstakes in the NFA competition, as well as making frequent team and individual appearances in the top ten in state, regional and other national competitions. Students from UIndy's team have also competed in an international tournament in London.

In 2013-14, Cunningham co-directed the team with Rebekah Gaidis '03, assistant professor (and a three-year team veteran herself) who went on to serve as sole team director until 2017. Stephanie Wideman is an assistant professor and the current team director. Both Gaidis and Wideman have led the team to stellar state and regional performances.
"Professor Cunningham's dedication to the art of public speaking is an inspirational force in the Department of Communication. She ran the Speech & Debate team for over twenty years, and in that time she was able to build the team into a cornerstone of speech education at UIndy," said Wideman.
A longtime southsider, Cunningham's UIndy connections run deep. Her two children, Kathleen Cunningham '11 (English) and Chris Cunningham '09 (communication) are alumni. She also has plenty of Emerald Isle connections. Her husband, Brian, is from Ireland, and is a singer and guitarist for the Irish Airs. Audrey has served as president of the Irish Dancers of Indianapolis and emcees Indianapolis' Irish Festival.