Celebrating 20 years on staff in 2018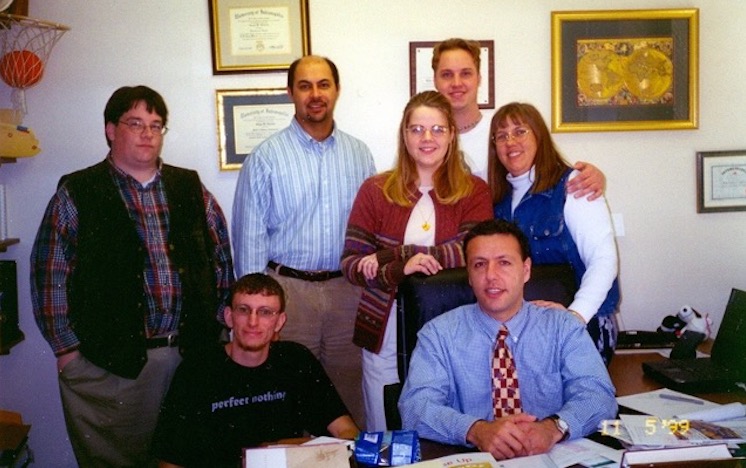 Nearly 50 employees who will be honored with service awards at the annual staff picnic on Tuesday, June 5. Five people will celebrate an impressive milestone – their 20-year anniversary with UIndy!
To honor this accomplishment, we asked each person to share a favorite memory from their time on campus. Find out what they said below and congratulate them in person during lunch on June 5!
Kathy Elliott, Registrar's Office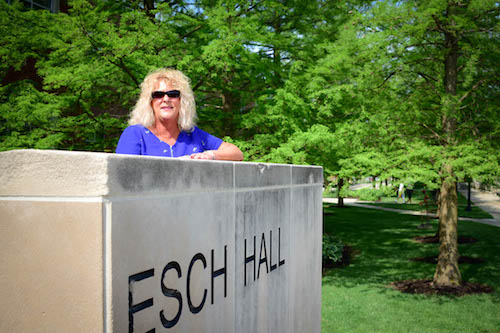 After 20 years of service at UIndy, I think my favorite memory is all the friends I have made throughout the years. I have met and worked alongside some of the most wonderful people in my career.  Staff, faculty, co-workers, and students and their families. I also have fond memories of all of the veterans I have helped along the way making their dream come true after serving our country. I am the Veteran Coordinator for UIndy. When a service member wants to attend UIndy, I work with them individually in assisting them to apply to use their veteran benefits.  I certify their enrollment with the VA each semester, monitoring their progress, along with making sure they receive their book stipend and housing allowance. I have met some really special service members along the way. It is so rewarding seeing them reach their goal and earn their degree here at UIndy.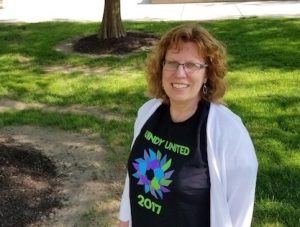 Kay Gunyon, Admissions
I love working for an organization that gives me the opportunity to join with other members of our community to speak out on social justice issues.  The UIndy Unity rally, the International Women's Day march, and the DACA silent march are favorite memories of mine.
Kelly Smelser, Information Technology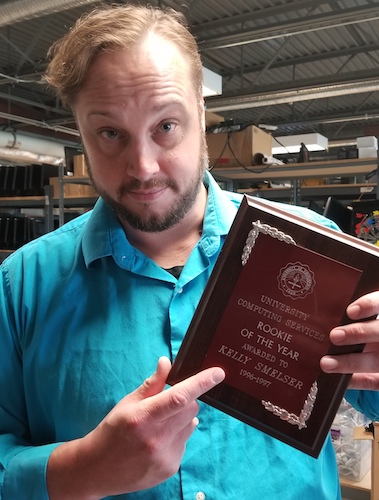 In the 20 years (22 if you count undergrad and part-time work) I've been on the UIndy campus there have been so many great moments, great people, and great memories. The person that I am is in large part a product of that UIndy experience in all of its tangible and intangible elements. I'm not sure if I can pick any one memory that is a favorite memory over the years, but I can describe one of my favorite parts of my UIndy experience that has continued to persist. That is the strong sense of community and teamwork that has remained constant throughout my time here.
There have been countless events and projects related to IT that we've taken an all-hands-on-deck approach. These are times like the Google roll-out, campus-wide network refresh in a short window, major building remodels, Blaster virus remediation, and so many more that represented major endeavors in which everyone was asked to pull together, go over and above, and get the job done. These were times of potential stress in which our resources, time, and abilities were pushed to the limits. And, at those times we pulled together, achieved our goals, made it fun, and came out the other end knowing that when push comes to shove our team can get it done.
This same sense of camaraderie, pride and confidence in our community extends to the entire UIndy experience. This campus has been a great place to work and grow over my time here, and I'm grateful everyday for what UIndy represents and the people that make up its gestalt.
Stephen Smith, Center for Advising & Student Achievement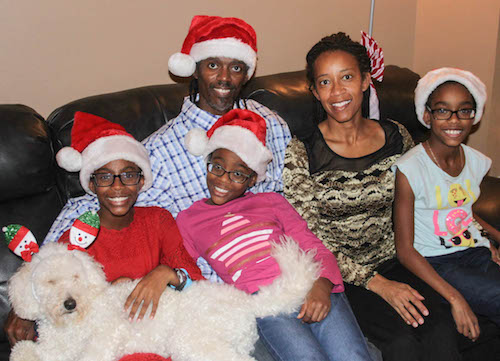 It is very difficult to pick my favorite memory over the past 20 years, but what I can say is the overall experience of working at Uindy has been incredible.  Twenty years ago I was engaged to be married and starting a new job. Twenty years later the campus has grown and opened it's doors to the neighboring community, my family and beyond. Following the growth of Uindy my family grew as well (three children) and a dog! The memories of the last twenty years have been awesome, and all consuming with family friends, colleagues and co-workers.  I look forward to what the future holds for this wonderful institution that I call home, the University of Indianapolis.  
Amber Weishaar, Information Technology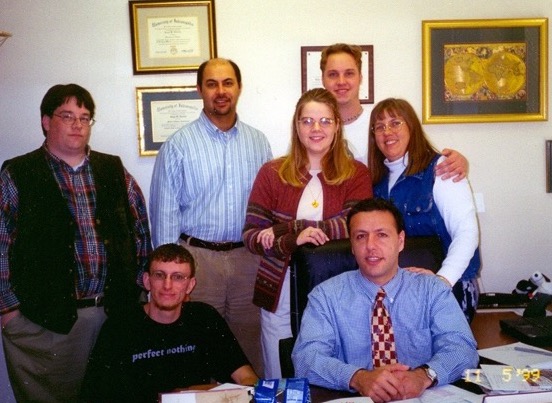 My favorite memories from the past 20 years are several times outside the regular work hours. In my early years several of us didn't have family obligations at the end of the typical work day, so we would occasionally just keep working into the evening. Sometimes we pulled all-nighters. One distinct all-nighter was our final push to go-live with UIndy's first intranet (not yet called My UIndy). A small group of us moved our computers, monitors, keyboards, and mice to a "war room" for the night's efforts. We played loud music, laughed, ate and coded until the next morning.
A more recent favorite memory is of an all-nighter that was not of our own choosing. Around 4 p.m. the afternoon before a four-day Spring Break weekend for the staff, we discovered some poor choices made by a temporary contract worker that affected every UIndy Linux server (70 servers total). The few of us left in the office at that time devised a plan of attack for systematically communicating with the IT professionals responsible for each server, reviewing the changes made by the contractor, and restarting and thoroughly testing each of the 70 servers throughout the night. One IT staffer even left home after her kids were in bed to pick up some food and drinks for us and bring it back to the office for us. Though it wasn't what any of us had planned for our evening, the camaraderie, laughter, and true team effort throughout that evening undoubtedly makes it one of my favorite memories of my 20 years here.
Congratulations to all staff celebrating a milestone this summer!