Professor honored for military chaplain service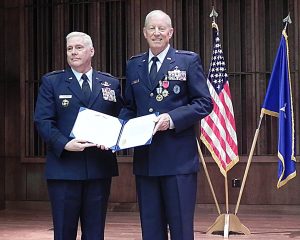 Brigadier General Jeffrey Hauser of the Indiana National Guard (left) awards the military's Legion of Merit and Joint Service Commendation medals to UIndy Professor Gregory Clapper in a ceremony at the Guard's Stout Field in Indianapolis.
Dr. Gregory Clapper's service to the U.S. Armed Forces was recognized recently when he was awarded the prestigious Legion of Merit decoration and the Joint Service Commendation Medal.
A full-time professor in the Department of Philosophy & Religion, Clapper also served 24 years as a military chaplain before retiring from that role. He received the Legion of Merit – which ranks just below the Silver Star and above the Purple Heart, the Bronze Star and the Distinguished Flying Cross – to commemorate his service as the National Guard Chaplain Liaison between the National Guard and the U.S. Africa Command, resulting in the first-ever Chaplain State Partnership for Peace program. The program fostered cooperation between eight African countries and eight U.S. states to build closer ties between the United States and several key allies.
The Joint Service Commendation Medal was awarded by the U.S. Africa Command to recognize Clapper's work in creating courses to help professionalize African Military Chaplain Services. These courses, offered to Protestant, Roman Catholic and Muslim chaplains in Kenya, Ghana and Nigeria, included a basic ethics curriculum and seminars in pastoral counseling, operational stress first aid, suicide prevention and the grief process.