Physical therapy professors receive recognition of research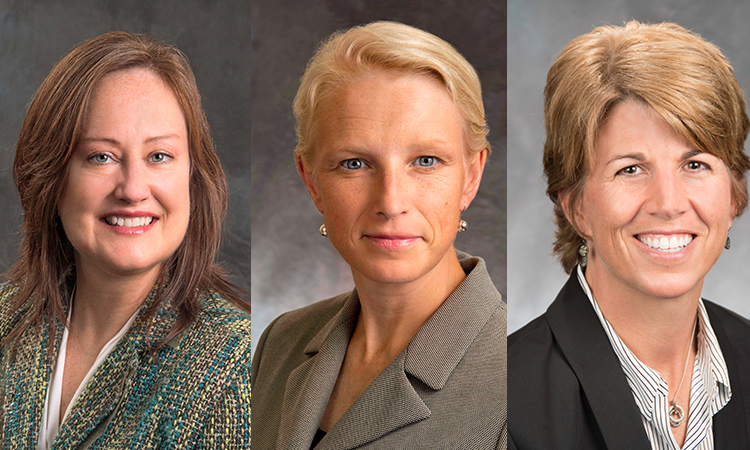 University of Indianapolis Krannert School of Physical Therapy faculty Dr. Renee Van Veld (pictured left) and Dr. Emily Slaven (center) conducted a research study on the coping skills of first-year Doctor of Physical Therapy students. That study, "First-Year Doctor of Physical Therapy Students Demonstrate Change in Coping with Stress," was recently published in the Journal of Physical Therapy Education. The study found improved confidence in coping ability among the cohort after three semesters despite stressful situations typical of the first year of a DPT program and suggests that planned intervention by faculty to facilitate growth in coping ability should be considered to increase student success. UIndy Doctorate of Physical Therapy Class of 2016 alumni Ben Reynolds, Paul Shupe, and Creola Woolery were co-authors on the publication.
Dr. Connie Fiems, assistant professor, (right) received an InQuery Collaborative Grant from the
University of Indianapolis for her research on the Reliability of Recumbent Stepper Submaximal
Exercise Tests After Traumatic Brain Injury. The research study aims to determine whether the
use of a recumbent stepper, which has been proven useful in the rehabilitation of people
who've had strokes, is a reliable rehabilitation tool for people who have experienced a
traumatic brain injury. Fiems, who is a Certified Neurologic Clinical Specialist and a Certified Brain Injury Specialist Trainer, anticipates beginning the testing with 30 people in August.