UIndy experience design program gains worldwide attention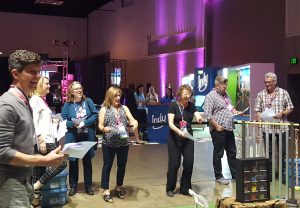 Conferences and meetings often conjure up an image of people sitting in chairs while they watch presentations. But the trend is moving towards creating experiences for active participants – and the field of experience design is uniquely positioned to meet this growing need in the business world.
Experience design is described as "deliberate design for a specific audience with a specific goal," explained Samantha Meigs, chair of the Department of Experience Design at the University of Indianapolis. She and her students had the opportunity to deliver a three-day workshop at the Meeting Professionals International World Education Congress, which was held during the summer in Indianapolis. The teaching workshop was sold out and well-received by participants as a conference highlight.
Meeting Professionals International contacted Meigs in 2017 with the invitation. The organization has more than 60,000 members with 90 chapters or clubs in 19 countries.
"Some members were interested in experience design, but they were having trouble getting other people on board with the idea, so their program director asked us to create this workshop," Meigs said.
"Their slogan was, 'Stop planning meetings. Start designing experiences,'" explained Austin Baker '18 (M.A., strategic leadership and design), '16 (experience design), who also was involved in planning the workshop.

Meigs and Baker worked with the program director to develop a three-day event that included theoretical work and case studies, engaging participants to create an immersive world called Ludensvilla and launching a "soft opening" as if they were presenting the experience. All conference attendees were invited to the opening, with many providing positive feedback and rave reviews.

"We built 'mix and match' set pieces and props, toted them down to the Convention Center, and on the second day, workshop participants built the city of Ludensvilla, which was having a festival to celebrate creativity," Meigs explained. "We developed the framework and we coached the participants as they learned about experience design while taking part in the project."
Ludensvilla is Latin for "city of play," a wink to the primary goal of experience design, which is to create memorable experiences at venues like museums, theme parks or restaurants. But the workshop demonstrates exciting new applications for experience design in other settings.
While the entertainment and marketing industries are the classic users of experience design, there is growing interest in the field by some surprising players. Nonprofits and healthcare were both represented at the conference, and Meigs said recent literature emphasizes clinical connections.
"The idea is to integrate the technologies with the physical world. For a long time they looked like they were going in separate directions, but they're starting to intersect again," Meigs said, adding that millennials in particular crave a physical connection. "We're using technologies to further the goals of the physical world instead of vice versa."
With experience design poised to become a department in the 2018-19 academic year, Meigs said the possibilities for collaboration are growing, including with leisure studies/recreation, marketing and anthropology. That also means job opportunities in an exciting new field.

"MPI has opened up a whole different arena of event professionals who are not event planners," said Meigs, who was recently featured in two articles about developing experiential tactics and the meeting room of the future.