Indianapolis Quartet returns Oct. 1 for exciting fall 2018 season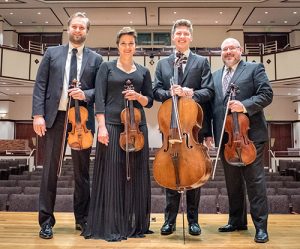 On the heels of summer festival and radio appearances, The Indianapolis Quartet (TIQ) returns to the Christel DeHaan Fine Arts Center on October 1 at 7:30 p.m. Their third season of concerts will get underway with a program that continues their exploration of the Beethoven quartets, an award-winning work by New York City-based composer Robert Paterson and Schoenberg's groundbreaking string sextet and features performances by two guests from the Indiana University faculty. The concert, part of the Faculty Artist Concert Series sponsored by Katz, Sapper & Miller, is open to the public and admission is free.
TIQ's palpable rapport and interpretive skill bring about concert experiences of a unique musical language and emotional performance style that has earned the group critical praise and audience appeal. First violinist Zachary DePue, former concertmaster of Indianapolis Symphony Orchestra (ISO), is in demand as a leader, soloist, collaborator and improvisational artist. Second violinist Joana Genova is assistant professor at the University of Indianapolis and recently appeared as soloist under the baton of Maestro Raymond Leppard. Violist Michael Isaac Strauss was principal of ISO for 20 years. He now performs around the country in chamber music settings and devotes significant energy to developing young violists. Prize-winning cellist Austin Huntington was appointed principal of the Indianapolis Symphony Orchestra at the age of 20 and now also serves on the faculty at UIndy.
The evening opens with Beethoven's dramatic String Quartet in C Minor, Op. 18, No. 4 noted for its stormy first movement; playful, innocent scherzo; an innovative minuet; and a gypsy-style finale. Robert Paterson's String Quartet No. 1, nicknamed the "Love Boat," consists of four high-energy miniature movements, mixing elements of jazz, fiddling and polka. It even contains a few short musical "quotes"—the most notable is the theme song from the 1970s and '80s television show, The Love Boat.
Violist Atar Arad and cellist Eric Kim, both on the faculty at the Indiana University Jacobs School of Music, will join TIQ for Arnold Schoenberg's landmark sextet, Verklärte Nacht ("Transfigured Night"), Op. 4. Written in 1899, when the composer was only 25 years old, the work is the first piece of programmatic chamber music. It is a musical representation of a poem of the same name by the German writer Richard Dehmel. The music is warmly and expansively Romantic, giving no hint of the "twelve-tone" style with which Schoenberg was to become identified only a dozen years later.
TIQ is quartet-in-residence at the University of Indianapolis and is grateful for support from the Christel DeHaan Family Foundation.
More information can be found at events.uindy.edu or by calling 317-788-3255.