Center for Aging & Community awarded emergency disaster management training contract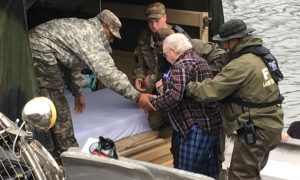 The University of Indianapolis Center for Aging & Community (CAC) has been awarded a contract by the Indiana State Department of Health to develop and implement a training program to help long-term care facilities create detailed emergency disaster management plans that meet new Center Medicare and Medicaid Services (CMS) regulations on emergency planning and provide the highest quality of care for older adults in an emergency situation.
CAC partnered with the university's Department of Criminal Justice to secure the contract for the training, which will be offered regionally throughout the state as a combination of online modules and face-to-face instruction. Topics to be covered include emergency and disaster management (EDM) planning best practices, special needs of vulnerable adults in long term care facilities, CMS regulations, and collaborative exercises to simulate emergency operations.
"We've seen in the national media how emergencies and natural disasters can catch nursing facilities off guard if they are not adequately prepared," said Ellen Burton, CAC senior project director.
In addition to the CAC project team, two University of Indianapolis faculty members will provide expertise in the development and presentation of the training. They are Kara Cecil, MPH, assistant professor in the Masters of Public Health Program, and Bill Reckert, instructor in the UIndy Emergency and Disaster Management Program.
Cecil has an extensive research background in mitigating risk to vulnerable populations in many environments, including the workplace, care facilities, and during and after emergency situations. Reckert served 30 years as a member of the Indiana State Police (ISP) Emergency Response Team (SWAT) and Explosive Ordinance Disposal team, where he worked on state and national full-scale exercises, developed an anthrax program for ISP, and created a suspicious package program for the Governor's Office, Indiana House and Senate.
"The field of criminal justice is centered on bringing order in emergency situations," said Kevin Whiteacre, chair of the department of criminal justice. "I'm excited about this partnership with CAC and the State of Indiana where we can share our expertise in this area."
The first of the EDM in Long Term Care trainings is scheduled for March 2019. Click here for more information about this and other CAC consulting projects, or contact Ellen Burton, senior project director.
Written by Amy Magan, communications manager for the Center for Aging & Community and the College of Health Sciences.