Dean of Education John Kuykendall: Preparing teachers for classrooms of the future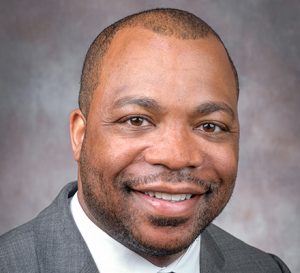 Today's K-12 classrooms are changing, and teacher education is evolving too. John Kuykendall, dean of the University of Indianapolis School of Education, said that means there's an increasing need for innovation.

"We want to be transformational in our School of Education," he said. "Teachers have to be prepared to teach more diverse students, in more technologically advanced classrooms."

In addition to multi-tasking, Kuykendall said today's teachers are working with students who may be experiencing trauma at home, so a modern curriculum may include counseling. Preparing student-teachers for these dynamic educational settings is a key goal for Kuykendall, who joined the University in June 2018.
"One of the things we do very well in the School of Education is getting our students into the classroom early with field experiences so they can get a sense of what it's like to be a teacher. The idea is for them to learn, observe and interact with students and feel the environment of a classroom so they know what lies ahead," Kuykendall explained.

Student-teachers are encouraged to process those observations starting in the first year of training – an element that Kuykendall says sets the school's education programs apart.
"That's been very powerful. We do a really good job here of designing lessons so that our students can reflect on what they're experiencing in the classroom early," he said.

In his own research, Kuykendall is interested in what drives student success, specifically among African-American student populations during the first year of college.
"For African-Americans, typically when they come to college, they are sometimes first generation, under-resourced to finance their education and they also have to make adjustments to a majority climate. All of those factors can contribute to whether they're successful in their first year," he explained. "It's very important to know what resources they need on the front end so they can be supported through their college education."
Forty percent of UIndy students are first-generation college students, and Kuykendall is applying his research to benefit student outcomes. He is collaborating with Jennifer Smith, director of student equity and success, to help students be more successful on campus in their freshman and sophomore years.
In his role as dean, Kuykendall is focused on expanding program offerings, as well as maximizing opportunities for faculty research. An early childhood education program aimed at adult learners will be introduced.
"We want to establish a partnership with Ivy Tech Community College to recruit students with associate degrees so they can smoothly transition into our program and complete their early childhood licensure," Kuykendall said.

Another new program slated for fall 2019 is the special education director's track. Long-term, Kuykendall says, the School of Education is looking at ways to establish a school partnership within the community, and to explore a doctoral program in leadership studies.

"We want to connect strongly with an elementary school in the area so students will have the opportunity to go into a school at their own time and pace and work with students in STEM education," said Kuykendall, who also hopes to build a makerspace on campus for students to work with community members on creative educational solutions.

Another key focus for Kuykendall is faculty research. He's looking at innovative solutions that will allow faculty to attend more conferences, conduct more research and consider new ways to partner with local schools are all part of that strategy.
"We really want to embrace the scholar practitioner model. If you're out in the schools, you can support what your students do through solid research. In order to be a strong faculty member, you have to be able to have research in certain areas that can inform practice," he explained.
Learn more about the UIndy School of Education