EWIN expands statewide impact with grants, technical assistance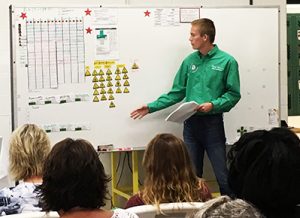 The Education Workforce Innovation Network (EWIN), an initiative of the Center of Excellence in Leadership of Learning (CELL), granted $15,000 to three community partnerships and then provided technical support for each to develop career pathways in their regions of Indiana. EWIN finished its work with these partnerships at the end of 2018, which included facilitating collaboration within their communities, researching promising models, site visits to explore innovative approaches and development of plans customized to each area's needs and resources. Each partnership involved K-12 education, postsecondary, businesses/industry, and other community agencies such as workforce development.
These grantee partnerships are as follows:
An Aviation Maintenance group is developing a robust K-16 career program to help meet the talent supply challenge created as current maintenance technicians and related personnel retire. Key members include Republic Airline, AAR, Textron Aviation, M.S.D. of Wayne Township, M.S.D. of Decatur Township, Area 31 Career Center, Vincennes University Aviation Technology Center, Wayne Township Adult Basic Education, Indiana Chamber of Commerce, EmployIndy and Work One Central Indiana.
Greensburg High School leads a partnership developing a healthcare pathway program for students to increase engagement, self-awareness, career knowledge, and academic rigor necessary for pursuing healthcare related careers. Other partners include Ivy Tech, United Fund, WorkOne, Mayor Dan Manus, Decatur County Memorial Hospital, Aspen Place, as well as Decatur County's Economic Development, Chamber of Commerce and Community Foundation.
Posey County Economic Development headed the third partnership that is working to grow talent for its advanced manufacturing industry with high tech high wage positions that require specialized training and expertise. This county partnership has involved business, K-12 education and postsecondary institutions to attract high-level employees, retain workforce, improve skills of existing employees as well as prepare students to enter these fields.
EWIN is also supporting two regional partnerships with $5,000 mini grants to boost their career pathway development already under way. Recipients are led by Whitley County Economic Development Corporation in pursuing an advanced manufacturing pathway and the Center of Workforce Innovations in Northwest Indiana that is developing a healthcare consortium.
EWIN is beginning its Round 4 of its Education-Workforce Partnership planning grant work by leading another group of grantees through the career pathway system development process. Partnerships will spend the next six months researching innovative models both in and out of state to determine and develop the most appropriate career pathway for their communities.
"With the growing focus on and quickly changing landscape in the education-workforce arena, communities are finding it imperative to mobilize collaborative cross-sector partnerships to address educational needs as well as the gaps in the local skilled workforce," said EWIN Director Erin Foster. "The EWIN team has a track record for effectively facilitating this process across the state as we strive to help schools and communities align their efforts for maximum impact."