Bellew receives PT Award of Excellence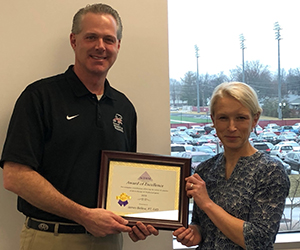 Jim Bellew, professor in the Krannert School of Physical Therapy, recently received the Award of Excellence from the Academy of Clinical Electrophysiology and Wound Management of the American Physical Therapy Association. The award recognizes individuals who have made exemplary contributions toward advancement of the science and practice of clinical electrophysiology and wound management in scholarly endeavors which have promoted the academic, research and clinical aspects of the profession.
Bellew is co-editor of the book "Modalities for Therapeutic Intervention" and has published more than 50 research-based manuscripts, book chapters and abstracts in the areas of electrotherapeutic agents, muscle physiology, balance and exercise training.