UIndy May trips send students around the globe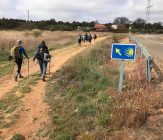 From Spain to Costa Rica, University of Indianapolis students are traveling the globe this month on experiential learning trips guided by faculty. Students will be visiting destinations in Europe, including France, England, Scotland, Germany, Spain, Czech Republic, and Austria, along with visits to less traveled corners of the world, including Ecuador, Cuba, Costa Rica, Ghana, Haiti and the Galapagos Islands. Another group is traveling to Japan. 
The trips serve to expand the education of University students by opening them up to new cultures and international experiences, which can have a profound impact on their future lives.

A group of students, including 13 members of the Ron & Laura Strain Honors College, is embarking on a walking pilgrimage along El Camino de Santiago across northern Spain to the Tomb and Cathedral of St. James. The group is led by University Chaplain Jeremiah Gibbs, Jim Williams, associate professor of history and Honors College executive director, along with Frank Bates, assistant professor in the Krannert School of Physical Therapy and Kelly Miller, director of the Student Counseling Center.
The journey will take the group 21 days as they walk through 100 towns and villages in Spain, including Leon, Astorga, Ponferada, Compostela and Madrid. They will have the opportunity to interact with Spanish villagers and some of the 250,000 annual pilgrims from around the world.

"This is an amazing opportunity for our students, to take a Spring Term trip together with funding support from the Strain Honors College.  Some of them are setting out on this journey as a formation of their spirituality, like pilgrims have been doing since the Middle Ages; some are going for the deep culture, history and language exposure they'll find in Northern Spain; others are looking forward to the adventure and the physical challenge," said Williams.
UIndy students are following the footsteps of Christians who have been making the pilgrimage to Santiago de Compostela for 1,200 years.  "My hope and dream is that all of them will be profoundly transformed by the time we arrive in Santiago de Compostela, some 165 miles after we take that first step together," Williams added.
Julie Kiefer, the University's study abroad director, notes that Spring Term trips continue to grow in popularity as students take advantage of experiential learning in a foreign country.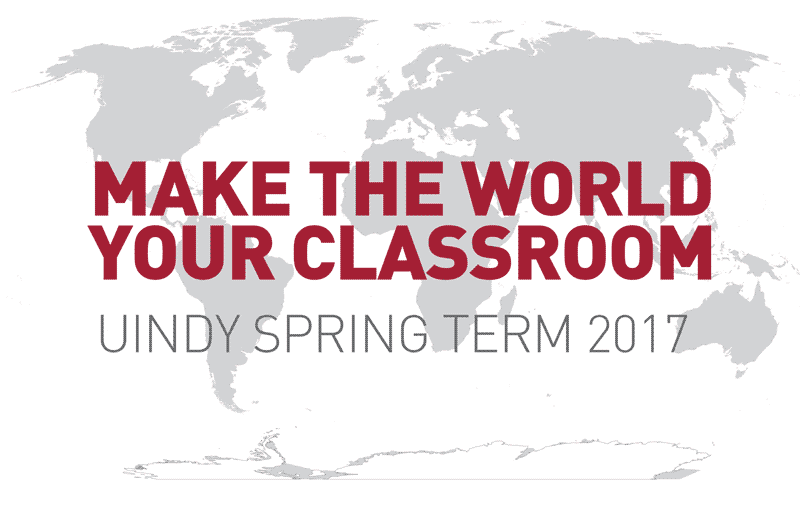 "Any major can study abroad, and there are so many programs to choose from. The May trips allow students to get a taste of life overseas, and some of them go on to participate in semester or year-abroad programs," Kiefer said.

Jennifer Camden, associate professor of English, will lead a group of 18 students through Edinburgh, Scotland's historic sites, Loch Ness, the Isle of Skye and the Highlands, York and London.
Kyoko Amano, professor of English, will guide a group of students on a trip through Japan. That includes a visit to the Hiroshima Peace Memorial Museum, Hiroshima Castle, the National Peace Memorial Hall and lectures.
Jodie Ferise, assistant professor of business administration, is taking students to Ghana for the sixth time since 2011. Past projects have included opening a kindergarten and junior high school, a computer lab and several libraries. This year's project will fund the construction of a school in the village of Papaase, Ghana, thanks to a generous donor.

Becca Cartledge is continuing her tradition of leading nursing students on a trip to Haiti. Follow their progress here.
Other trips include:
Costa Rica, led by Julie Kiefer, the University's study abroad director

Ecuador, led by Kathleen Hetzler and Shannon Moore, assistant professors of nursing

France and Spain, led by Peter Vakunta, assistant professor of French and Francophone Studies

England and Austria, led by Sharon Parr, associate professor of music

Germany, Czech Republic and Austria, led by Milind Thakar, associate professor of international relations, and Paul Levesque, assistant professor of German

Cuba, led by Terrence Harewood, associate professor of teacher education

Galapagos, led by Douglas Stemke, associate professor of biology, with Sandra Davis, associate professor of biology and Kevin Gribbins, assistant professor of biology

Written by Sara Galer, Senior Communications Specialist, University of Indianapolis. Contact newsdesk@UIndy.edu with your campus news.