Two University of Indianapolis history majors honored with 2019 Bennett-Tinsley Award

Two University of Indianapolis students were named winner and runner-up of the prestigious Bennett-Tinsley Award, a statewide prize designed to promote undergraduate research in history.

Johnathon Carter '19 (history major, philosophy minor) won first place and Reagan Kurtz '19 (history, political science and international relations) was named runner-up for research related to their respective capstone work during the fall 2018 semester.

"Our department is proud that two of our seniors were chosen as co-winners for 2019,"  said James Fuller, professor of history. "Their prize-winning papers are a testament to them individually, but also to the high-quality program in history that we have at the University of Indianapolis. Johnathon and Reagan thrived in the atmosphere of collegial academic rigor and their prize is evidence of their success."
Johnathon Carter's research focused on George W. Julian and the founding of Irvington, while Reagan Kurtz's work examined Eli Lilly and the development of insulin. Each paper was based on original research and provides insights into neglected aspects of Indiana history.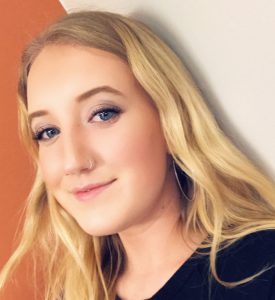 "I feel very honored and happy to win the award. It feels like all the hard work I put towards my paper paid off," Kurtz said.
Edward Frantz, professor of history, said that the spirit of inquiry and quest for excellence are what set Carter and Kurtz apart. "They were part of the largest senior capstone in the last fifteen years," Frantz said. "Their work demonstrates the continued importance of historical study and its relevance to the most pressing issues of our day."
Both Kurtz and Carter credit history faculty for creating a supportive environment where their research projects could blossom.
"I wouldn't have been able to write my paper without the help and experience of the history department faculty. It is humbling to have my work appreciated by professionals, and I have to give the credit to my professors who inspired me in lectures, meetings and through the seemingly countless books both assigned and recommended," Carter explained.

"All of my professors in the history department are incredible and played a huge role in my academic success," Kurtz added. "They have also given me a lot of support as I prepare to graduate."
The work of Bennett-Tinsley Award recipients will be made available to current and future scholars.
"Johnathon and Reagan are excellent students and became a valued part of our department and the history community on campus," Fuller said. "They are leaving behind a legacy that goes beyond what they accomplished, as their work can be cited and used by others in the future."

Following graduation in May, Carter will study law at the University of New Mexico, while Kurtz is exploring entry-level positions in her field and planning for graduate school.