CELL celebrates newly endorsed Early College high schools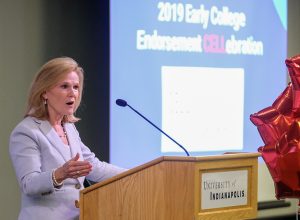 INDIANAPOLIS—The Center of Excellence in Leadership of Learning (CELL) celebrated eight newly-endorsed and three re-endorsed Early College High School programs Tuesday, June 25 at the University of Indianapolis with featured speaker Commissioner Teresa Lubbers of the Indiana Commission of Higher Education.
Newly-endorsed schools to be honored include Bloomfield High School, Charlestown High School, Christel House Academy, North Davies High School, Penn High School's Early College Academy, Vincennes Lincoln High School, New Castle Career Center and Mishawaka High School. Those being recognized for re-endorsement are Delta University High School, Wabash High School and East Allen University.
"CELL is extremely proud of the work done by these school communities. Their students will continue to reap the benefits of Early College in their future studies and the workplace," said CELL Early College Director Sandy Hillman. 
With the addition of this year's endorsed schools, CELL has now approved 30 Early College high schools across Indiana as performing at a highly effective level. Among these are 24 public high schools, 4 career centers and two charter schools. Ten of the 30 have earned initial endorsement and followed up with re-endorsement three years later. 
The Early College High School model creates small schools that are designed to give students a head start on the rest of their lives. Students can earn both a high school diploma and up to two years of credit toward a bachelor's or associate degree. While open to all students, Early Colleges specifically serve low-income young people, first-generation college students, English language learners and students of color, all statistically underrepresented in higher education. 
Each endorsed Early College must adhere to the distinctive eight Core Principles established by CELL that serve as a framework for the planning and implementation of this school model – among these are serving a targeted student population, providing a rigorous curriculum and delivering robust student supports.
The Center of Excellence in Leadership of Learning at the University of Indianapolis is a leading convener, catalyst and collaborator for dynamic, innovative education change in Indiana. CELL is committed to all Indiana students, regardless of background, graduating from high school equipped with the skills and knowledge necessary for success in postsecondary education, training and the 21st-century global economy. 
For more information, contact CELL Communications Director Marianna Richards at 317-791-5993 or richardsm@uindy.edu