University of Indianapolis announces the Gerald and Marjorie Morgan Endowed Professorship of European History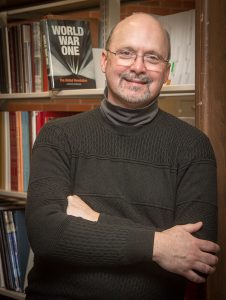 A new endowed professorship will create exciting academic opportunities at the University of Indianapolis.
Lawrence Sondhaus, professor of history, was announced as the recipient of the Gerald and Marjorie Morgan Endowed Professorship of European History at a dedication ceremony during the 2019 Family Weekend. 
"I am honored to receive the Morgan Endowed Professorship. The endowment will bring valuable scholarly opportunities to students as well as faculty in the history program. This support will enable me to reconnect with Germany on a regular basis, which in turn enhances the classroom experience for students, especially in my Modern Germany course," Sondhaus said.
Sondhaus has published 13 books, most of which focus on the history of Germany and Austria in the nineteenth and twentieth centuries. Four of his books have been translated into a total of eight editions in other languages, including German, Italian, Slovenian, Portuguese, Korean and Chinese. Sondhaus also has authored twelve journal articles, thirteen published conference papers or book chapters, fifteen published commentaries or brief articles, and over fifty book reviews. 
His most recent book, "German Submarine Warfare in World War I: The Onset of Total War at Sea "(2017), sparked his interest in the lives of two U-boat officers from the First World War, Karl Donitz and Martin Niernoller, who went on to play prominent roles on opposite sides in Hitler's Germany, then survived into the 1980s. They will be the subject of Sondhaus' next book project.
Gerald Morgan obtained bachelor's and master's degrees in history from the University of Indianapolis in 1973 and 1983, respectively. Morgan was a career soldier who served in Army finance and logistics. His career took Morgan and his wife Marjorie all over the world, eventually settling at the finance and accounting service at Fort Harrison in Indianapolis. Gerald and Marjorie Morgan both became postmasters in Indianapolis in their second careers.
"Gerald and Marjorie Morgan lived a quiet life of kindness, dedication to hard work and a passion for Education for Service. Now, generations of students will benefit from their generosity," said Robert L. Manuel, University of Indianapolis president.

Learn more about the Department of History and Political Science.