University names Good Hall Pillar Honorees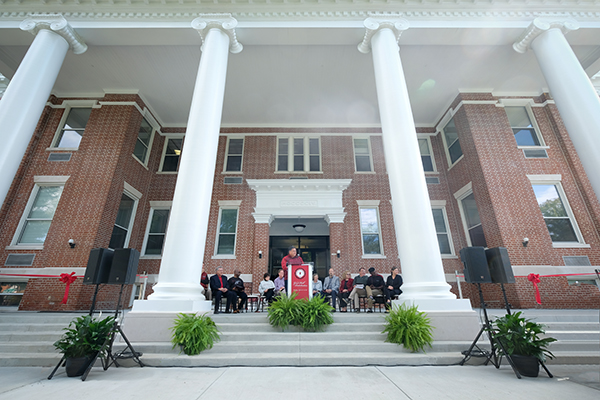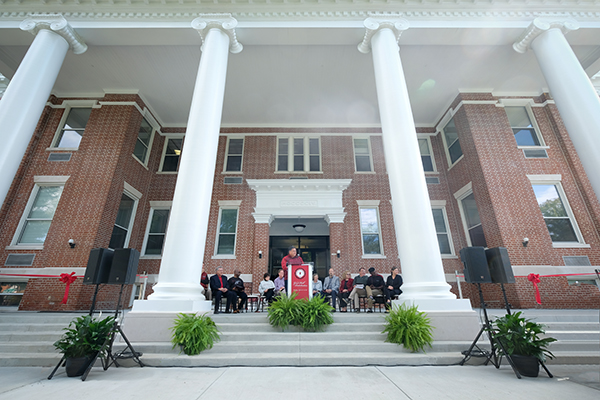 Since its construction in 1904, Good Hall has served as an iconic presence and cornerstone of knowledge for generations of students, alumni and community members who have passed through its columns. It was named after the University's third president, I.J. Good, and was home to the first University president, Rev. John Roberts.
Today, Good Hall represents the strength and history of the University's liberal-arts core education and is now home to the Shaheen College of Arts & Sciences. Improvements completed last year include the exterior restorations of the Good Hall pillars and portico, as well as the first floor renovations and Dean's Suite. More recent renovations were completed on the second and third floors which transformed Good Hall into a learning environment aligned with the needs of today's students.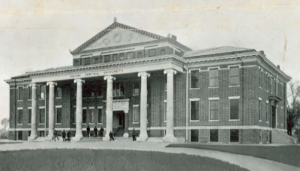 In 2018 Good Hall went through a historic renovation and restoration. The project has inspired a new tradition that aligns our institutional values with the historic significance of Good Hall, whose six pillars have stood tall for nearly 120 years.  The restoration was supported by over 500 donors, including two supporters who will be recognized in perpetuity on a Good Hall pillar for their generosity.
The remaining pillars will honor four individuals, organizations, or groups connected to the University of Indianapolis, who represent the institutional core values of inquiry, innovation, leadership and service. Their names will be placed prominently on four of the six pillars for one year and, together, we will celebrate how they exemplify these values at our annual Homecoming President's Lunch and Founders Day Celebration.
Value of Inquiry – Inquiry is inspired by faculty and the foundations of critical thinking, problem-solving and creativity to actively pursue understanding and seek truth through learning and engagement.
Value of Innovation – Innovation is pursued through discovery and intention that seeks action to advance, invent and solve.
Value of Leadership – Leadership is created through an inspiring vision for the future while motivating individuals, groups and communities to work towards that vision.
Value of Service – Service is the unselfish, authentic acts that inspire, guide and help others.
David Manley '23 (1894-1951)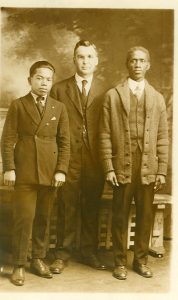 Born to a family of war refugees in the British colony of Sierra Leone, after surviving years of upheaval and starvation, he and his brothers were given shelter by United Brethren missionaries in the town of Shenge. Ernest Emery and Lota Snyder Emery, recent graduates Indiana Central University ('15), admired David's dedicated work ethic, They urged President Good to accept him to train to be a teacher. David Manley enrolled at ICC in 1919, becoming our first international student and the founding editor-in-chief of The Reflector newspaper.  He was widely admired for his wit as a communicator.
After graduation, he completed a Master's degree at the University of Pennsylvania before returned to Sierra Leone where he served (1926-1946) as vice-principal of the Albert Academy, the first secondary school for boys, which is known for training the first generation of Sierra Leone's leaders at the time of independence in 1961. David Manley spent the last five years of his life teaching at the London School of Oriental and African Studies, where he taught British officials preparing for service in Sierra Leone to speak Mende. David Manley's life-work prepared the way for independence of Sierra Leone in 1961, and a hundred years this fall he started the internationalization of our university.
Dr. LeAlice Briggs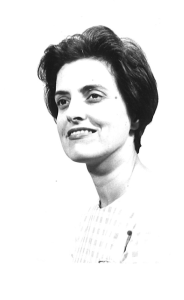 As we celebrate the 60th anniversary of the founding of the Nursing program (1959), we also recognize the accomplishments of a distinguished emeritus dean and Professor of Nursing who offered significant leadership during a period of rapid growth and development at UIndy. During more than five decades of professional engagement as a nurse, Dr. LeAlice Briggs worked in medical-surgical and psychiatric contexts. After initially teaching nurses Springfield, IL (1956-1959) she began teaching at Indiana Central College while she completed graduate studies at IU (MSN 1970) and Ball State (EdD 1980).
LeAlice served as dean of the School of Nursing for 18 years. Building on the UIndy tradition of engaging students with personal concern, Dr. Briggs did focused research about student performance on licensing exam for the Associate's Degree of nursing. Dr. Briggs received the Honorary Alumni Award in 1992 on the occasion of her retirement. Seven years later she returned to campus to help with the School for Adult Learning, developing collaborations through outreach programs and coordinating delivery of onsite educational programs. She retired a second time in 2005. She was awarded an Honorary Doctor of Science degree in 2003. LeAlice Briggs has set the standard for faculty-student engagement at a university where the faculty takes pride in personal attention to student needs. Her legacy continues with the LeAlice Briggs Endowed Nursing Scholarship funded by Dr. Briggs, her husband Max, and more than 250 faculty, staff, alumni and friends.
Dr. Randy Lee '72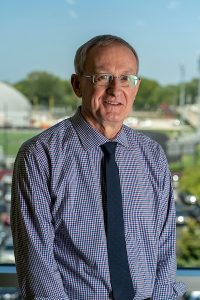 Dr. Randy Lee is a graduate of the Class of 1972 who has gone on to be a successful leader in his profession and the wider community where he practices medicine. After three years at Indiana Central, he completed medical school at Indiana University (1975) before beginning his medical practice in Martinsville. Since 2010, he has served as the Director of Medical Education and Vice President for Medical Affairs at Community Hospital South while serving as one of the hospitalists on staff. He was the first doctor who oversaw the Community Clinic here on campus. The Lee family, which includes his wife Susie, his son Jim, his daughter Laura '05, and son-in-law, Elijah Hammans '04 have been strong supporters of UIndy, particularly supporting scholarships for UIndy students.
Dr. Lee has served on the UIndy Alumni Board and enjoys a close relationship with many current and former members of the University community. As a physician of internal medicine, he  has been in private practice for more than 44 years. He is a member and former President of Indiana Society of Internal Medicine and is a Fellow of the American College of Physicians. He has traveled to El Salvador multiple times with other medical practitioners to provide free health care to people in rural villages.  He also is very involved in his church community, the First United Methodist Church in Martinsville. In his free time, he enjoys attending his grandkids' various sporting activities and hiking throughout Indiana. Dr. Lee's service as an internal medicine physician has impacted the communities of central Indiana – including his alma mater – and his leadership in medical education has expanded access to needed health care.
The Hanni and Hiatt Families
The Hanni and Hiatt families are two of the largest legacy families in our university's history with almost 40 Greyhounds ranging from the class of 1927 to the most recent class of 2019. The families have provided decades of service to support education and health needs in our community. Both families have remained dedicated to the University over multiple generations with family members serving on the Board of Trustees, alumni board, Greyhound Club board, faculty, and staff. Combined, the families have funded 13 endowed scholarships for UIndy students. The families are being recognized this year, in part, to celebrate the 50-year class reunion for Sarah (Hiatt) Maple and Dr. Cary Hanni, both graduates of the class of 1969.
HANNI FAMILY
Bob Hanni
Larry Hanni '58
Cary Hanni '69
Karen Hanni '71
Vicki Hanni
Kevin Hanni '74
Don Hanni
Jeff Hanni '79
Kristine (Hanni) Dozier '01
Kenna (Hanni) Broomall '07
Steven Cassell '08
Blair Hanni '10 '11
Lynzi Hanni '13
Lesley (Hanni) Austin '13
Chelsea Hanni '14
Joshua Baker '15
Ashleigh Davids '19
HIATT FAMILY
Russell Hiatt '27
Mary (Hiatt) Carmony '29
Don Carmony '29 '66
Ruth Hummer '29
Ralph Hiatt '32
Irene (Hiatt) Struble '33
Herb Biatt '34
Lisabeth (Hiatt) Taylor '35
Lloyd Hiatt '40
Treva (Shoemaker) Hiatt '42
Elnora (Freshley) Hiatt '61 '73
Elena Sue Hiatt-Houlihan '65
Steve Maple '66
Dan Hiatt '67
Pam (Jones) Hiatt '68
Sara (Hiatt) Maple '69
Johanna (Philhower) Maple '94
Ted Maple '96
Ethan Maple '02
Ashley (Carson) Maple '05
Zach Maple '06
Heath (Hiatt) Miller '12 '14
Join us during the Homecoming festivities this weekend as we celebrate these honorees.