Laura Santurri to run 100 miles for the hounds

Never have you met a University of Indianapolis professor so truly dedicated to the University's mascot until you have met Laura Santurri, the chair of the Department of Interprofessional Health & Aging Studies and director of the Doctor of Health Science Program. Santurri is willing to run 100 miles in 30 hours in order to raise money to support retired greyhound dogs. Her love for greyhounds comes from her own two rescue greyhounds, Sara and Ben, as well as her time working at UIndy. Santurri will run the Indiana Trail 100 this month to raise $1,000—enough to provide 10 greyhounds transportation by Victory Lap Greyhound Transport to new forever homes.
The Indiana Trail 100 will be held October 12-13 at Chain O'Lakes State Park in Albion, Indiana. About two years ago, Santurri became an Ultra Runner by completing her first 50K race. Since then she has completed two 40-mile races and one 50-mile race. This will be her first attempt at a 100-mile race.
"It will definitely be a challenge," Santurri said. "But I have always found that fundraising alongside participating in an ultra-race makes the experience more meaningful."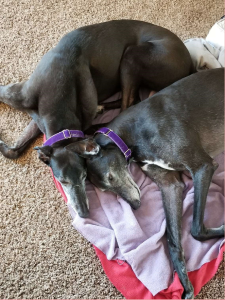 On her Victory Lap fundraising page, Santurri explains why, for this particular race, she has chosen The Victory Lap Greyhound Transport as her cause: 
"Fundraising while running races began for me about six years ago, when my husband was diagnosed with chronic leukemia, and I joined the Leukemia and Lymphoma Society's Team in Training. I've found that raising funds for a good cause while running races makes everything more meaningful for me. Dog rescue is a cause near and dear to my heart. I have a pack of dogs for a family (six rescues, two of whom are retired greyhounds), and while I don't have room to adopt any more at the moment, I'd love to do my part to help other greyhounds find and get to a good home. And that makes me love what Victory Lap does."
If you wish to support Santurri in fundraising for The Victory Lap Greyhound Transport, you can do so here. If you choose to donate, click on "A Ticket Home", enter your information (and make sure to enter "Laura's run" in the "in honor of" box), and then click Donate.
Story contributed by DPT student Annabelle Hearn.