Shaheen Grants expand opportunities for experiential learning

Brenda Nunez '20 (biology) arrived on UIndy's campus knowing she wanted to study abroad, but she did not know if it would be possible. This year, Nunez achieved that ambitious goal by studying in Scotland. While overseas, she was able to learn about different cultures, how to travel independently and how to adapt to different environments. 
"I was also able to focus on another love of mine that biology majors, sadly, don't get to experience as often: literature," she said. "These lessons while I was abroad will help me appreciate the world around me, and I hope to appreciate as much of the world as I can."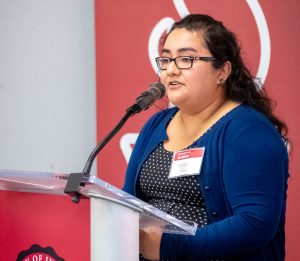 Being named a Shaheen Global Fellow opened up a world of opportunities for Nunez that she may not have otherwise had access to. "Traveling abroad was a pipe dream to me and my family," Nunez said. "But because of the generosity of [immediate past Board of Trustees chair] Yvonne Shaheen, it was made possible."
On October 4, the University hosted the inaugural Riad & Yvonne Shaheen Colloquium to highlight student and faculty impact on the community and honor recipients of the Shaheen Grants over the last year. Yvonne Shaheen addressed the grant recipients at a luncheon prior to the Colloquium and individually recognized each grant recipient.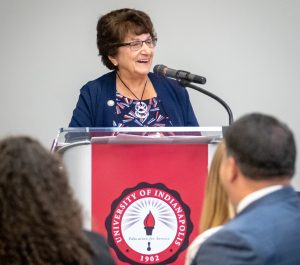 When the University of Indianapolis received a $5 million naming gift for the College of Arts and Sciences from Mrs. Shaheen in 2015, that set the stage for several transformative projects and initiatives, including the Shaheen Grants. These grants are designed to connect students with unique learning environments that help them build professional networks and skills. Faculty members may also apply for community engagement grants.
Four types of grants are available to University of Indianapolis students and faculty within the Shaheen College of Arts & Sciences: 
Undergraduate Scholarly/Creative Activity grants are designed for a student to engage in a scholarly project with a faculty member. These students are known as Shaheen Scholars.

Student Career Readiness and Leadership Development grants are designed for a student to travel to a conference to engage opportunities for leadership development or career readiness. These students are known as Shaheen Leadership Fellows.  

Shaheen Global Fellows have received Study Abroad/Study Away grants designed to provide supplemental funding for an educational travel experience.

The Service Learning/Community Engagement grant is designed for faculty within the Shaheen College of Arts & Sciences to develop curricular experiences that focus on service-learning and/or community engagement.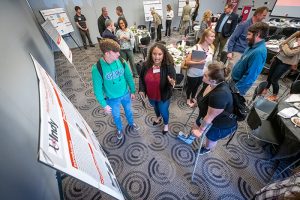 "Shaheen Grants helped support nearly two-dozen student and faculty projects during the past year," said Debra Feakes, dean of the Shaheen College of Arts & Sciences. "We express our gratitude to Yvonne Shaheen for her generosity, but also extend it to our faculty who facilitated research and travel opportunities, allowing students to maximize the advantages of their grants."
Yvonne Shaheen has demonstrated leadership and commitment to the University of Indianapolis over the years and her service to the community is just as exemplary. Shaheen was the first female chair of the Indianapolis Chamber of Commerce and of the Board of the National Electrical Contractors Association. In addition to her current Board leadership position at the University, she also serves as the Board Chair of the Indianapolis Symphony, as well as on the board of Gleaners Food Bank and Community Health Network. She previously served as the Chair of the Board of Trustees for The Indianapolis Children's Museum, WFYI, The Indianapolis Art Council, and The Greater Indianapolis Progress Committee.
This commitment to the community and exploration of the world at large is emblematic of what the Shaheen Grants represent. Katherine Fries, assistant professor of art & design, and four of her students were named Shaheen Community Engagement Scholars this past year. This funding allowed the group to accept an invitation to be specialized volunteers for the Hamilton Wood Type & Printing Museum in Two Rivers, Wisconsin. There the group was able to assist the museum in cleaning, cataloging, and organizing their massive and important wood type and woodcut collection.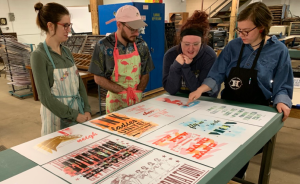 This provided the students the opportunity to engage a rare collection, learn about and participate with its preservation and directly apply skills learned in class to the service of their chosen professional field.
"This trip challenged us in new ways while engaging in what we loved," said Kyle Agnew '19 (studio art major, psychology minor). "And gave us a chance to give back to those who make it all possible."
Added Kalia Daily '20 (M.A., printmaking and painting) '18 (studio art major, art history minor): "Without funding, this fun, enriching and lasting experience is something we would not have been able to take part in. So we would all like to thank Mrs. Shaheen and those who made this trip possible."
Full List of Shaheen Grant recipients for 2018-19:
Kyle Agnew, Shaheen Community Engagement Scholar
Justin Blakey, Shaheen Scholar
Bryan Comer, Shaheen Global Fellow
Kody Conaway, Shaheen Scholar
Emma Croxford, Shaheen Global Fellow
Kalia Daily, Shaheen Community Engagement Scholar
Aaron Drake, Shaheen Scholar
Katherine Fries, Shaheen Community Engagement Fellow
Claire Green, Shaheen Global Fellow
Kate Hamori, Shaheen Leadership Fellow
Kiley Harmon, Shaheen Global Fellow
Lindsey Henderson Shaheen Global Fellow 
Rachel Hurrell, Shaheen Scholar
Reagan Kurtz, Shaheen Global Fellow
Abby Land, Shaheen Scholar
Corrie Lykins, Shaheen Global Fellow
Brenda Nunez, Shaheen Global Fellow
Savannah Phipps, Shaheen Leadership Fellow
Lucy Shirley, Shaheen Leadership Fellow
Karlee Taylor, Shaheen Scholar
Amanda Thompson, Shaheen Community Engagement Scholar
Bailey Thompson,  Shaheen Leadership Fellow
Nick Tibbs, Shaheen Scholar
Mackenzie Vermillion, Shaheen Scholar
Kylie Vonderwell, Shaheen Global Fellow
Rachel West, Shaheen Community Engagement Scholar
Currently enrolled Shaheen College of Arts & Sciences students and faculty may apply for a grant via this internal link.