UIndy's live mascot program returns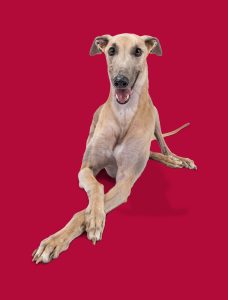 There's a new hound in town! The University of Indianapolis introduced its new live mascot, Grady the Greyhound, on Wednesday, November 20, 2019. 
Grady, a two-year-old retired racer adopted from Florida, joins Ace the mascot to increase spirit and pride throughout the entire University community.
His debut marks the first time in nearly 40 years since the last live mascot, "Timothy O'Toole," proudly represented UIndy (then known as Indiana Central University). Grady is the third live mascot in school history.
Grady's full name is C. Greyson Veritas, a nod to the school colors of crimson and grey, and the Latin word for "truth," which formed part of the University seal when it was known as Indiana Central College (as part of the saying, "Truth through faith and science.")
Visit uindy.edu/grady to learn more about the live mascot program and to see Grady's upcoming schedule of events.
The University of Indianapolis is grateful to the Indianapolis chapter of the Greyhound Pets of America for their assistance throughout the adoption process.