Moyers, Kroll and Watkins join UIndy SOT faculty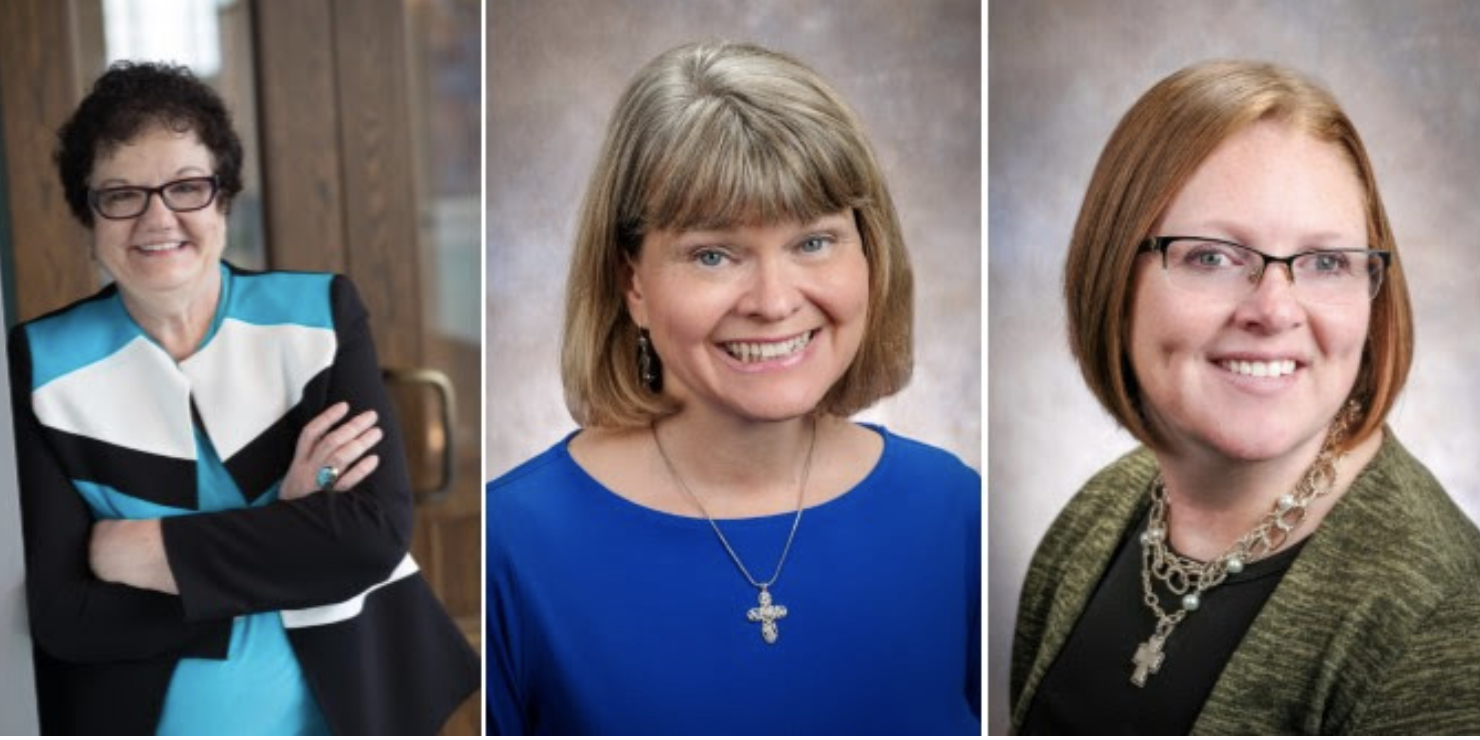 The University of Indianapolis School of Occupational Therapy (SOT) is pleased to announce three new faculty members this year. All three are familiar faces at UIndy. Penny Moyers, founding dean of the School of OT,  has made a return to teaching, accepting a position as Professor of Occupational Therapy. Christine Kroll, a 1989 UIndy OT graduate, has joined the faculty as Assistant Professor and Doctoral Capstone Coordinator. Finally, Kristina Watkins, who received both her undergraduate and graduate degrees at UIndy, also joins the faculty as an Assistant Professor and OTD Academic Fieldwork Coordinator.
"The UIndy School of Occupational Therapy is so pleased to have these three outstanding educators and clinicians on our faculty," said Kate DeCleene Huber, Chair of the School of Occupational Therapy. and Associate Dean for the College of Health Sciences. "Our MOT and OTD students will no doubt benefit from their experience, scholarship, and commitment to the profession."
Penny Moyers, who most recently was the Vice President of Academic Affairs at Resurrection University in Chicago, IL, is happy to return to the classroom and that the classroom is at UIndy, where she taught from 1986-2004. She served as the Dean of the School of Occupational Therapy from 2000-2004.
"It was fortunate timing that when I wanted to return to a faculty position, UIndy had one open," Moyers said. "I am thrilled to be back in a familiar place that has a reputation for excellence in OT education."
In addition to her academic endeavors, Moyers has served on numerous boards of directors, including the American Occupational Therapy Association, where she was president from 2007-2010, and Benedictine Health System Foundation. She has multiple publications, presentations, and awards to her credit. Her research interests include interprofessional education, innovation in healthcare, evidence-based practice, and implementation science. She teaches research courses in both the masters and doctoral curriculums.
For Christine Kroll, returning to UIndy is like coming home again. She earned both her bachelor's degree in biology and her masters in OT at UIndy. "I didn't know when I stepped onto the UIndy campus more than 20 years ago, that I would one day be back here teaching," Kroll said. "The opportunity to teach future occupational therapists in the place that launched my OT career is terrific."
Kroll has over 20 years of experience in management and leadership. She is well known as an advocate for occupational therapy, for which she was awarded a place on the AOTA Roster of Fellows in 2016. Kroll is very active in current national post-acute care payment reform taking place and published a Health Policy Perspective article in 2018 with the American Journal of Occupational Therapy on the topic. Her original research on Medicare-developed functional measures was published in August 2019 in the International Journal for Therapy and Rehabilitation. She is leading the Doctoral Capstone process and teaching management courses in both the masters and doctoral curriculums.
Like Kroll, Kristina Watkins earned both her undergraduate and master's degrees from UIndy, in chemistry and occupational therapy respectively. In addition to extensive experience in pediatric feeding interventions, especially for children with autism, Watkins has a keen interest in fieldwork education, issues affecting the OT profession, and mentorship.
"I have a passion for empowering students to take initiative, improve problem-solving, and practice advocacy in the field," Watkins said.
Watkins serves as an Academic Fieldwork Coordinator in the OTD program.