UIndy Gender Center: a welcome wave of support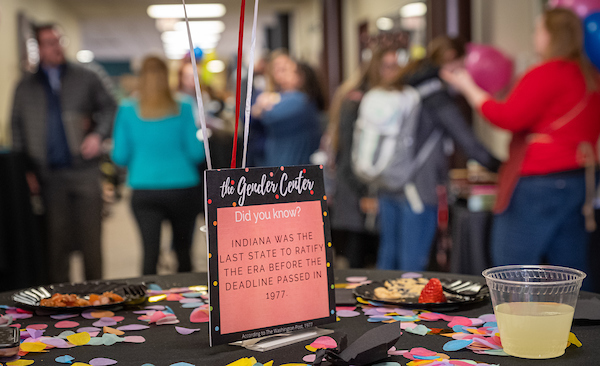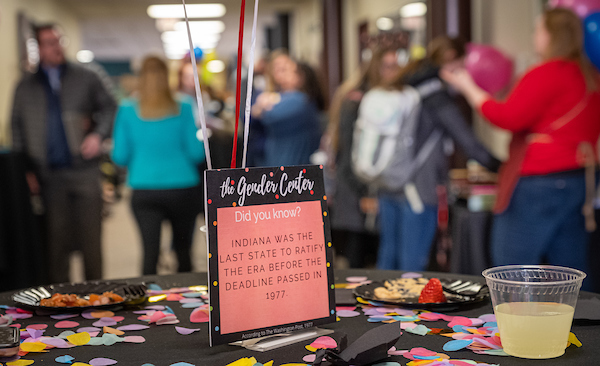 The University of Indianapolis Gender Center held a grand opening Thursday, February 20, full of music, food, confetti, and a letterpress station run by Assistant Professor of Art & Design Katherine Fries.
Students, faculty, and staff came in support of the new office, located on the second floor of the Schwitzer Student Center in room 208C , and stayed for a ribbon-cutting prefaced with remarks made by Gender Center Committee member and Assistant Professor of History & Political Science Laura Merrifield Wilson and President Robert Manuel.
Wilson spoke about her goals for the center, stating that she would start with "getting people aware and building our partnerships, as well as finding ways to help the thriving LGBT community that is already on campus. Whatever they need, whether it's resources, support, or funding, we are here for them."
According to the center's website, "The Center empowers, advocates, and promotes gender equity by supporting research and education, serving as a connector for resources; and nurturing and cultivating intentional partnerships and relationships."
When asked what she thought of the Gender Center, student Carrie Long '23 replied, "I think it will impact the lives of the LGBT community on campus in a very positive way."
In addition to supporting individual students with questions and concerns, the Gender Center is looking to expand its reach into the community of UIndy through partnerships with fellow organizations that align with their values.
One upcoming event the Gender Center will be partnering with is the Kellogg Writers Series poetry reading Wednesday, March 25th, featuring Midwest poet Emily Skaja. Her debut collection, BRUTE, "confronts the dark questions and menacing silences around gender, sexuality, and violence," according to Goodreads. Some proposed concepts of this cross-collaboration include promotional materials, a giveaway of Emily Skaja's books that have been purchased by the center and can be signed by the author when she visits, and redeemable Gender Center pins to encourage event attendance.
Associate Professor of English Barney Haney, co-instructor of the Kellogg Writers Series course, shared his opinion on the importance of the Gender Center and what this collaboration will mean for both parties involved. "We are excited about what the Gender Center could mean for our campus community and for the communities that our students serve. By collaborating with the center on the Emily Skaja poetry reading, the Kellogg Writers Series is hopeful that we can further spread the word about the Gender Center while also providing a valuable and relevant experience to the entire student body. Skaja's debut collection, BRUTE, deeply examines intimate partner violence committed against women and shows us a path to recovery and reclamation of the self. Her poems are fantastic, brutal, and honest. They are what our students need to hear."
Fellow co-instructor of the Kellogg Writers Series course, Associate Professor of English Rebecca McKanna, expressed that "In Emily Skaja's BRUTE, the speaker reckons with her experiences of intimate partner violence, often talking to her past self, offering her the language to name what is happening to her. We hope the reading will open up conversations on campus about these issues, allowing students and the wider campus community to engage with this ferocious debut poetry collection."
This collaboration marks the beginning of a promising legacy for the Gender Center as they provide a long-lasting safe space for those in need of resources and/or support.