University of Indianapolis R.B. Annis School of Engineering graduates first cohort

The R.B. Annis School of Engineering at the University of Indianapolis recently graduated its first cohort of students. Fifteen students received their diplomas in May, having completed programs in computer science, mechanical engineering, industrial and systems engineering and software engineering. The University created the engineering program in 2016 to address rising workforce demand and announced the R.B. Annis School of Engineering in 2017, made possible through a generous gift from the R.B. Annis Educational Foundation.
"I am grateful to our faculty for creating an innovative curriculum and real-life learning opportunities that have established the R.B. Annis School of Engineering as a formidable and competitive program that honors the creative spirit of Robert B. Annis," said Robert L. Manuel, University of Indianapolis president. "Congratulations to the first cohort on their incredible achievements."
"The R.B. Annis School of Engineering has significantly enhanced the landscape of the University of Indianapolis," said Debra Feakes, Shaheen College of Arts & Sciences dean. "By structuring our engineering program within the arts and sciences, UIndy offers boundless opportunities for interdisciplinary collaboration that further prepares our students for the professional world."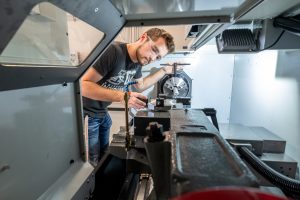 With the launch of the R.B. Annis School of Engineering in 2017, the graduation of this cohort is an important step towards program accreditation. The first group of R.B. Annis School of Engineering programs coming up for accreditation through the national Accreditation Board for Engineering and Technology (ABET) includes mechanical engineering, industrial and systems engineering, and software engineering.
ABET evaluates programs based on student performance, educational objectives, program curriculum and other factors. The accreditation process necessitates the program have a graduating class so that the ABET may evaluate the cycle of a completed program. Accreditation status is retroactive to the program's first graduating class.
In 2023 the next group of programs to undergo the accreditation process includes electrical engineering, computer engineering, general engineering and computer science.
Students in the R.B. Annis School of Engineering, one of only two stand-alone engineering programs in the city of Indianapolis, have access to many unique experiences that supplement their classroom work under world-class faculty. The DesignSpine curriculum emphasizes project-oriented courses integrated with hands-on experiences. Students who study a broader variety of subjects develop valuable communication skills such as business and technical writing, public speaking and presentation readiness. This unique educational experience encourages students to immerse themselves in the engineering world by challenging themselves to think bigger, imagine greater and continuously work to improve and expand their knowledge.
As part of the School of Engineering's unique DesignSpine curriculum, students in the third year of the program take part in a business pitch competition where they work in interdisciplinary teams to design and pitch a product, process or service in collaboration with industry mentors. Teams present their work to stakeholders from within and outside of the School of Engineering, including mentors from organizations such as Citizens Energy Group, Huntington Bank, and Anthem NGS. Students in the program also have access to the Engineering Makerspace, a unique environment for project-oriented learning and student research.