UIndy community gardens help neighbors stay food-secure during pandemic
A partnership between the University of Indianapolis, Community Health Network and the South Indy Quality of Life Plan (SoIndy) is bringing fresh produce to our southside neighbors at a time when it is needed most.
See media coverage from WRTV and WISH-TV.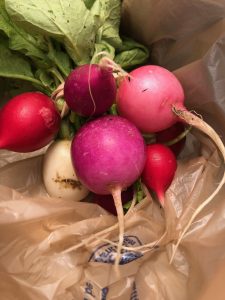 Organic produce grown in UIndy's community gardens will be distributed to residents every week during the month of June at the La Luz del Mundo Church. Planning is underway to continue the produce distribution throughout the summer in collaboration with local pantries. University of Indianapolis students are working in the gardens as they learn about important health concepts such as food insecurity and community organizing. The gardens will also serve as a learning site for public health nursing students in the fall.
The community gardens were launched in 2017 with the goal of bringing access to fresh produce to the surrounding neighborhood. The project is part of an ongoing partnership between the University of Indianapolis and Community Health Network to provide health- and wellness-related opportunities to the Indianapolis southside. SoIndy has played an important role in the partnership, along with Community Hospital South and Purdue Extension.
Interdisciplinary collaborations are a key part of the project's success. Last August, UIndy Social Practice Art students activated the gardens for a class project. During the past two years, garden interns have represented majors from across campus, including public health, environmental science, psychology and music. Gurinder Hohl, University of Indianapolis and Community Health Network partnership director, and Kevin McKelvey, professor of English and director of the Social Practice Art Program, are advisors for the community gardens.
SoIndy is collaborating with La Luz del Mundo (Light of the World) Church at 2842 Shelby St. to distribute fresh, organic produce from the gardens throughout the month of June. Distribution takes place every Wednesday from 1:30 to 2:15 p.m. The no-contact distribution includes a hot meal and a week's supply of non-perishable food items, in addition to produce from the community gardens.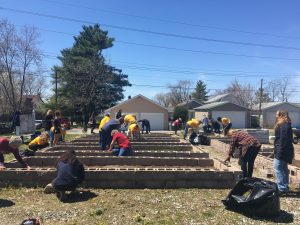 Hohl said the coronavirus pandemic has exacerbated the problem of food insecurity.
"With the SoIndy community already being a food desert, the need to provide safe access to food is critical," she said. "That is one of the reasons that the planners of the community gardens have gone ahead with the planting of spring and summer vegetables—to provide access to fresh, organic produce."
Any produce that is not distributed during the drive will be donated to local pantries.