University of Indianapolis R.B. Annis School of Engineering receives 2020 Elevate Nexus Higher Education Grant to boost entrepreneurship programming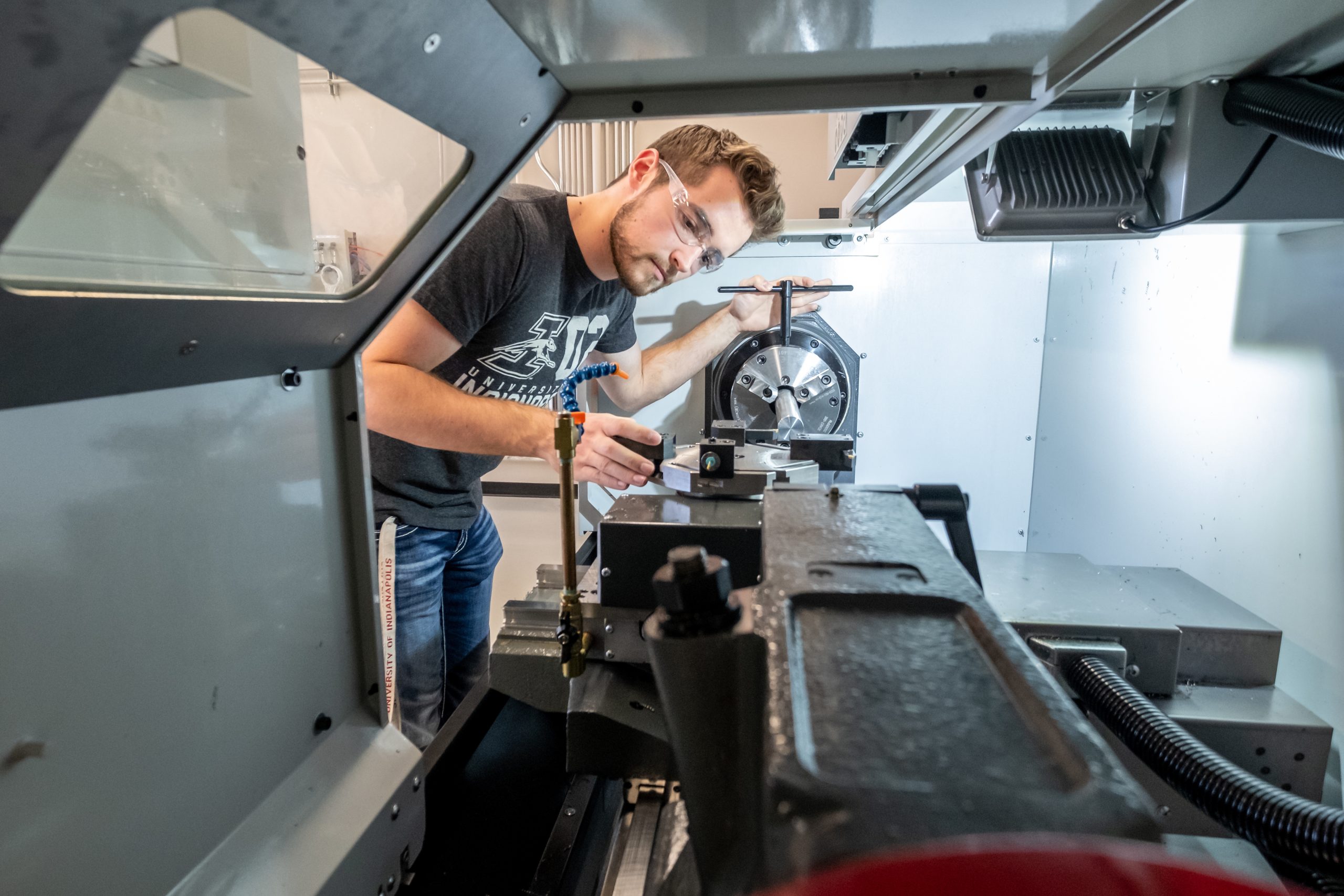 The University of Indianapolis R.B. Annis School of Engineering (RBASOE) received a 2020 Elevate Nexus Higher Education Grant for $50,000 to support program curriculum and entrepreneurship throughout the University. Elevate Ventures, a private venture development organization, facilitates the Elevate Nexus Higher Education Grants, which are made possible through a partnership with the U.S. Economic Development Administration.
The grant will provide enough funding to sustain operations for two consecutive years to support customer discovery, engineering design and prototyping by the RBASOE junior-level engineering students in the DesignSpine curriculum as they develop an entrepreneurial mindset as well as innovation-driven product development skills. A significant portion of the grant will also support students and faculty outside of the engineering program to encourage interdisciplinary collaboration.
"This grant will enable our UIndy faculty and students to expand on the design aspect of engineering and explore further product development, which is an important component of the entrepreneurial mindset," said Kenneth Reid, R.B. Annis School of Engineering associate dean. "It allows us to build upon the DesignSpine curriculum, a unique aspect of the R.B. Annis School of Engineering."
Reid noted RBASOE's history of cross-departmental work through the DesignSpine.
"With this grant, students and faculty outside of engineering will have access to our entrepreneurial curriculum, additional funds to explore their ideas, and resources to support their ideas, product development, and commercialization endeavors," Reid said.
David Olawale, assistant professor of engineering, led the application grant. As an entrepreneur who is active in the Indiana technology development ecosystem, he saw the Elevate Nexus program as a valuable opportunity to expand on the RBASOE DesignSpine as well as to promote innovation-driven entrepreneurial activities across the University of Indianapolis.
"The goal is to create a center for collaborative innovation that includes expertise and resources from different disciplines and units across the University to serve students, faculty and staff," Olawale said.
After taking part in the program, participants will be able to proceed to the Elevate Nexus pitch competition program where they can compete for a share of $660,000 to support their ideas and ventures.
A portion of the grant is designed to support an entrepreneurial summer camp for central Indiana high school students. The camp will expose students to the entrepreneurial mindset curriculum, engineering concepts, CAD skills and prototyping. The R.B. Annis School of Engineering has hosted summer camps concentrating on radio-controlled car optimization and the design and fabrication of electric go-karts.
"With this grant, future camps will be able to grow and expose more students to exciting new areas of engineering," said Paul Talaga, associate professor of engineering.
About the University of Indianapolis
The University of Indianapolis, founded in 1902, is a private university located just a few minutes from downtown Indianapolis. The University is ranked among the top National Universities by U.S. News and World Report, with a diverse enrollment of nearly 6,000 undergraduate, graduate and continuing education students. The University offers a wide variety of study areas, including 100+ undergraduate degrees, more than 40 master's degree programs and five doctoral programs. More occupational therapists, physical therapists and clinical psychologists graduate from the University each year than any other state institution. With strong programs in engineering, business, and education, the University of Indianapolis impacts its community by living its motto, "Education for Service." Learn more: uindy.edu.
About Elevate Ventures
Elevate Ventures is a private venture development organization that nurtures and develops emerging and existing high-growth businesses into high-performing, Indiana-based companies. Elevate Ventures accomplishes this by providing access to capital, rigorous business analysis and robust advisory services that connect companies with the right mix of resources businesses need to succeed long term. To learn more about Elevate Ventures, visit elevateventures.com.