Department of Biology adapts to pandemic with biology kits for students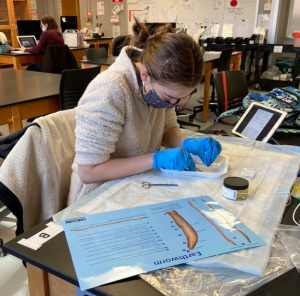 When the COVID-19 pandemic struck, all University of Indianapolis academic departments were forced to rethink their course delivery approach to accommodate face-to-face restrictions. For the Department of Biology, that meant determining that students still had access to hands-on learning experiences in the laboratory.
With CARES Act funds, the department adopted the use of lab kits which were supplied to students at no expense to them. The kits contain all the materials that students need to complete lab activities at home.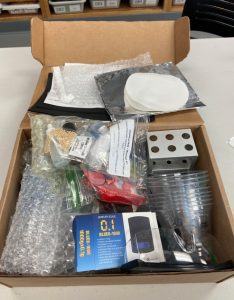 "We also wanted to make sure that even though the students were technically taking online classes, they could still come for help, use our facilities and feel part of the campus," explained Sandy Davis, chair and professor of biology. "It has worked out really well."
To give maximum flexibility, students taking classes that are using kits can take their kits home and do everything there. If students feel uncomfortable coming to campus, are in a high-risk health group or are under quarantine, they can still complete the activities and not fall behind. Residential students may store their kits in the lab.
Accompanying this approach is a system of open labs in which students from any class (whether they are using a kit or not) can check in at Lilly Science Hall. Students may pick up their kit, if they have one, and are then directed to an open lab where they can work on their own or collaborate with other students in the class.