University of Indianapolis Etchings Press announces 2020 Whirling Prize recipients

Etchings Press, the University of Indianapolis student-run publisher, has announced the recipients of the 2020 Whirling Prize.
The Whirling Prize welcomes submissions of published books related to specific themes that change annually. The 2020 prize focused on the theme of horror.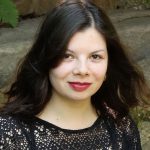 Laurel Radzieski was awarded the 2020 Whirling Prize in Poetry for her collection "Red Mother" (NYQ Books).
Joseph P. Laycock was awarded the 2020 Whirling Prize in Prose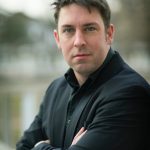 for his book, "The Penguin Book of Exorcisms" (Penguin Classics).
Author and cover photos available for download here.
Student judges would like to honor the following finalists in the 2020 contest:
"Enantiodromia" by Mike X Welch
"Lake County Incidents" by Alec Cizak
"Homesick" by Nino Cipri
Students enrolled in ENGL 479 reviewed submissions and selected winners in the categories of prose and poetry.
"The student judges explored and engaged with Horror this fall and ended the competition with a greater appreciation of the nuances of the genre, after having the opportunity to read the contest entries. It was an excellent learning experience," said Liz Whiteacre, advisor of the 2020 Whirling Prize.
The winners will receive a $500 honorarium and broadsides celebrating their book designed by a Hullabaloo Press artist. They will each join student judges in conversation on episodes of the UIndy Potluck Podcast. For updates, follow @uindyetchings on Instagram, Twitter, and Facebook.
About "Red Mother"
In "Red Mother," Laurel Radzieski weaves a love story told from the perspective of a parasite. This series of short poems explores the intimacy, desire and devotion we all experience by following the sometimes tender, often distressing relationship that emerges between a parasite and its host. Radzieski's poetry is playful, though often with sinister undertones. Far from romanticizing either role, "Red Mother" takes readers on a tour of their own innards, exposing the hooks and claws of all involved. Following the parasite's life cycle, the book blurs the line between science and poetic license to create a fantastical romp not for the squeamish. Although parasites are not known as conversationalists, Radzieski's guest has a lot to say.
About "The Penguin Book of Exorcisms"
Believe it or not, fifty-seven percent of Americans believe in demonic possession. Spirit possession has been documented for thousands of years and across religions and cultures, even into our time. "The Penguin Book of Exorcisms," edited by religious studies scholar Joseph P. Laycock, showcases a range of stories, beliefs and practices surrounding exorcism from across time, cultures and religions. Laycock's exhaustive research incorporates scientific papers, letters and diary entries by the clergy, treatises by physicians and theologians, reports from missionaries and colonial officers, legal proceedings, and poetry and popular legends. The result is informative and entertaining, and proves that truth can indeed be scarier than fiction.
Call for 2021 entries
Student judges welcome recently published books of prose and poetry in response to the theme of nature published since January 2019. Students are employing a broad interpretation of these criteria in their reading and judging. The deadline for submissions is September 3, 2021. Details may be found on the Etchings website.