Will Loggan '22 honors father Paul Loggan '85 in Super Bowl spot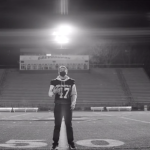 During Super Bowl LV Sunday evening, Indiana viewers received a special message from a University of Indianapolis legacy family.
Gov. Eric Holcomb announced Wednesday that the Indiana State Department of Health would feature UIndy student-athlete Will Loggan '22 (sport management) in a public service announcement that will air during the Super Bowl.
In the 30-second video, Will Loggan talks about the difficult loss of his father, Paul Loggan '85, to COVID-19 last April. Paul Loggan was a beloved athletic director for North Central High School and a member of UIndy's athletic Hall of Fame.
Gov. Holcomb shared a clip of the public service announcement at his news conference Wednesday, saying it would be aired throughout the state.
"The message that will come across is one that is not just compelling, but it will make a long, lasting difference," Gov. Holcomb said.
Last spring, #COVID19 took Paul Loggan – father, husband and Hoosier football legend.

The Loggan family has now come together to honor Paul's legacy and invite fellow Hoosiers to get the vaccine.

Learn more about the vaccine at https://t.co/E3JRw4M0d7. #OurShotHoosiers pic.twitter.com/cJ3vzq70Xj

— Indiana Department of Health (@StateHealthIN) February 8, 2021
The public service announcement acknowledges the tragic loss of life due to the coronavirus pandemic and encourages Hoosiers to take the vaccine as it becomes available.
Will Loggan said he was eager to talk about his father with a large audience "and tell them how great of a man he was. He was a people's man. Everybody loved my dad. After sporting events, he was always the last one to leave the gym, make sure everybody got a ride home safely. He wanted to take care of everybody."
In August, Will spoke about his father's memory and impact on his life as part of UIndy's Protect Our Pack initiative. Watch here.