University of Indianapolis announces new Board of Trustees members

INDIANAPOLIS—The University of Indianapolis announced two new Board of Trustees members, Uche Unogu and Derek VanEmon, who were formally sworn in on October 9, 2020.
"Our newest Board members bring valuable perspectives from the areas of international relations and business," said Board Chair Phillip Terry. "We are thankful to serve alongside them and benefit from their expertise as we continue to strengthen the University and plan for the future."
"The University of Indianapolis is honored to have Uche Unogu and Derek VanEmon serve on our institution's Board of Trustees. Our newest board members are uniquely qualified to contribute to the dynamic campus leadership that today's higher education landscape requires," said President Robert L. Manuel. 


Uche Unogu '08 co-founded Onyx Evangelistic Association Inc, in Lagos Nigeria, shortly before emigrating to the United States in 2003 to study at the University of Indianapolis and pursue his calling in international evangelistic ministry. After graduating from the University of Indianapolis with a bachelor's degree in information systems, Unogu earned a master's degree in health informatics at IUPUI. He is the president and CEO of Onyx EA, which has offices in five countries, and has produced mass evangelistic campaigns that have touched hundreds of thousands of lives around the world.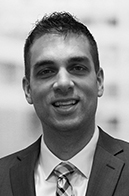 Derek VanEmon '04, '05 is a second-generation University of Indianapolis alumnus and a partner of Ernst & Young, LLP (EY), with clients in the real estate industry, primarily serving publicly-traded real estate investment trusts (REITs) and private equity real estate funds. He has a bachelor's degree in accounting and a master's of business administration and finance from the University of Indianapolis School of Business. He was a member of the Greyhound varsity football team for five seasons, earning three varsity letters and three designations as Academic All-Great Lakes Intercollegiate Athletic Conference. VanEmon now oversees alumni relationship initiatives at the EY-Indianapolis office and is actively involved in campus recruiting and other employee mentoring and development initiatives.   
About the University of Indianapolis
The University of Indianapolis, founded in 1902, is a private university located just a few minutes from downtown Indianapolis. The University is ranked among the top National Universities by U.S. News and World Report, with a diverse enrollment of nearly 5,600 undergraduate, graduate and continuing education students. The University offers a wide variety of study areas, including 100+ undergraduate degrees, more than 40 master's degree programs and five doctoral programs. More occupational therapists, physical therapists and clinical psychologists graduate from the University each year than any other state institution. With strong programs in engineering, business, and education, the University of Indianapolis impacts its community by living its motto, "Education for Service." Learn more: uindy.edu.
###