2021 Staff Achievement Awards: Call for nominations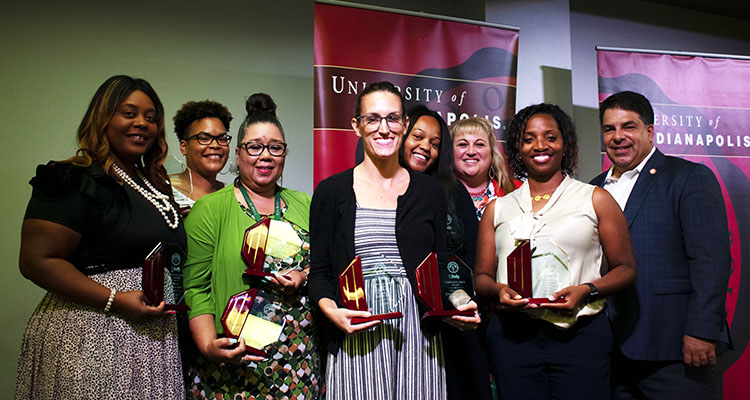 Dear colleagues,
As we look forward to more opportunities to gather in community this fall, we are grateful to begin the academic year by recognizing the hard work and commitment of our dedicated faculty and staff. We celebrate each with their own awards, and I write today to ask for your nominations for our Staff Achievement Awards.
Marking this tradition is especially important following the phenomenal efforts of our employees in facing the challenges of the pandemic and finding ways to excel. In order to identify and celebrate our outstanding staff at the Faculty and Staff Institute this fall, we need your help to participate in a nomination process that will have a shortened time frame this year, occurring during the summer rather than in the spring.
UIndy's Staff Achievement Awards Program provides well-deserved recognition for those staff members who work tirelessly, with passion and conviction, to make all of our academic and athletic achievements possible. This program allows the University to recognize staff members who approach their roles as more than a job; they serve to enhance the University experience and create opportunities for us all.
This year, all staff—full and part-time—are eligible to be nominated. I encourage you to honor our staff colleagues by nominating them in one or more of the following categories:
UIndy Emerging LeaderEnhancing the Student ExperienceUnsung HeroSpirit of UIndyCollaborative SpiritBeyond UIndyInclusive Excellence
You can learn more about each award and access the nomination form on the Staff Achievement Awards page. The nomination deadline for Staff Achievement Awards is Wednesday, July 14, 2021. We plan to present the awards at the Faculty and Staff Institute in August.
Thank you for contributing to the unity and collaborative culture of the entire University family.
Best regards,

Robert L. Manuel
President