University of Indianapolis named a College of Distinction for fifth consecutive year


The University of Indianapolis has been recognized for its honorable commitment to engaged, hands-on education by Colleges of Distinction for the fifth consecutive year. As an institution whose primary goals are based on student success and satisfaction, the University of Indianapolis claims its honor as one of the renowned Colleges of Distinction.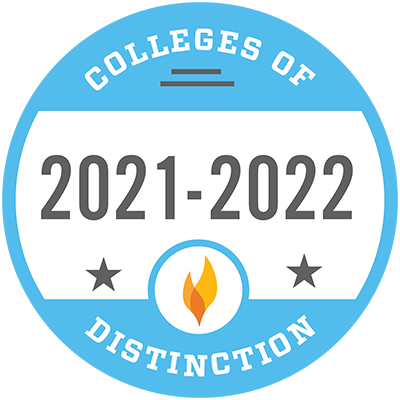 Colleges of Distinction's longstanding support for student-centered schools highlight those that traditional rankings often overlook. Founder Wes Creel created Colleges of Distinction to draw more attention to schools like the University of Indianapolis, whose student-centered education prevails in applying theory to practice while fostering a dynamic learning community and creating active examples of the University's motto, "education for service."
Colleges of Distinction's selection process comprises a sequence of in-depth research and detailed interviews with the schools about each institution's freshman experience and retention efforts alongside its general education programs, career development, strategic plan, student satisfaction, and more—and accepting only those that adhere to the Four Distinctions: Engaged Students, Great Teaching, Vibrant Community, and Successful Outcomes. These principles are all informed by the High-Impact Practices to prioritize how institutions enable students to have a fulfilling, individualized college experience.

Along with being honored as a College of Distinction for its high-impact approach to education, the University of Indianapolis has received specialized recognition for its Business, Education, Nursing, and Engineering programs. These additional accolades were borne out of a need for college curricula that are comprehensive not only in course material, but also in practical and soft-skills development.
The University of Indianapolis has also received special recognition for its Career Development program. Schools awarded the Career Development badge have shown that they are well equipped to help their students graduate with confidence. The badge recognizes schools with comprehensive four-year plans, advising, and more. The University of Indianapolis offers numerous resources through its Professional Edge Center, providing unparalleled support throughout every stage of career exploration, development, and application.
Creel and his colleagues found that the most popular college rankings systems rely on metrics like peer reputation, size of endowment, and alumni salaries. They knew instead that the effective strategies for student satisfaction and outcomes were the kinds of engaging experiences found at the University of Indianapolis: living-learning communities, capstone projects including the Strain Honors College, study abroad programs with the Center for Global Engagement, Center for Service-Learning & Community Engagement programs, Office of Inclusion & Equity initiatives, undergraduate research, and interdisciplinary academic experiences.

About Colleges of Distinction
Since 2000, Colleges of Distinction has been committed to honoring schools throughout the U.S. for true excellence in higher education. The member schools within the Colleges of Distinction consortium distinguish themselves through their dedicated focus on the undergraduate experience. Its website provides dynamic college profiles, customized tools, and resources for students, parents, and high school counselors. For more information, and to learn how to become a College of Distinction, visit CollegesofDistinction.com.
About the University of Indianapolis
The University of Indianapolis, founded in 1902, is a private university located just a few minutes from downtown Indianapolis. The University is ranked among the top National Universities by U.S. News and World Report, with a diverse enrollment of nearly 5,600 undergraduate, graduate and continuing education students. The University offers a wide variety of study areas, including 100+ undergraduate degrees, more than 40 master's degree programs and five doctoral programs. More occupational therapists, physical therapists and clinical psychologists graduate from the University each year than any other state institution. With strong programs in engineering, business, and education, the University of Indianapolis impacts its community by living its motto, "Education for Service." Learn more: uindy.edu.