UIndy IT to introduce 2-Step Verification in Fall 2021
This September, the University of Indianapolis Information Technology (UIndyIT) Department will implement Google 2-Step Verification for all University employees. 2-Step Verification is considered a best practice for safeguarding digital assets, and the University's insurance carrier is requiring it before renewing the policy. Simply put, 2-Step Verification is an authentication method that requires the user to provide two or more verification factors to log into an account.
At a time where organizations are experiencing ransomware and other cyber attacks at increasing rates, 2-Step Verification has become an industry-standard defense mechanism to safeguard the information within the University's care. Adopting this practice campus-wide allows the University to best meet the needs of students and the overall community.

"With the increase in phishing and other types of cyberattacks that we've been monitoring, we know we can't let our guard down. Google 2-Step Verification will bring the necessary safeguards to protect data at the University of Indianapolis," said Herriford. "A defining factor of our UIndy community is how much we care about one another. Taking these steps to protect our data is one more facet of Protecting Our Pack."
UIndyIT is planning to fully implement this security feature for all employees by September 29, 2021. Enabling this security feature will prevent your Google account from being compromised in the event your username and password are stolen via malware, phishing, or other hacking measures. Google's 2-Step Verification requires you to authenticate using an extra code retrieved from your phone (via text or the Google Authenticator App) or by simply responding to a Yes or No prompt in the Google app.
Beginning September 8, 2021, for all University staff, contractors, and temporary workers, 2-Step Verification Will be required.  Faculty will be required to enable 2-Step Verification by September 29, 2021.
To set up Google 2-Step Verification:
After logging into your UIndy Google Account, a pop-up message titled "Don't get locked out" will appear (see screenshot below).
Click on the blue "Enroll" button.
Follow the on screen instructions.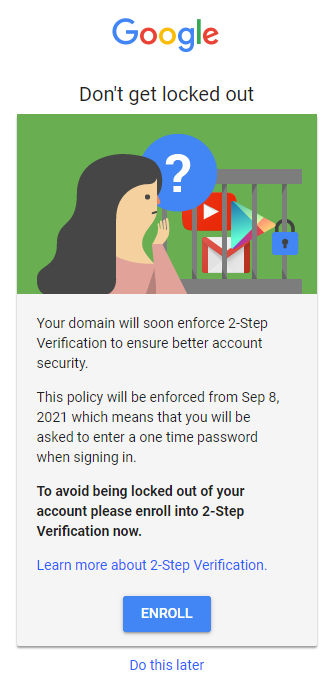 More details can be found on securing your UIndy Google account with 2-Step Verification Tech Guide. You may also reach out to the IT Help Desk at techhelp.uindy.edu if you need additional assistance.
Video: Learn how to set up 2-Step Verification