UIndy Engineering Students Compete Shark Tank-style in 4th Annual Business Pitch Competition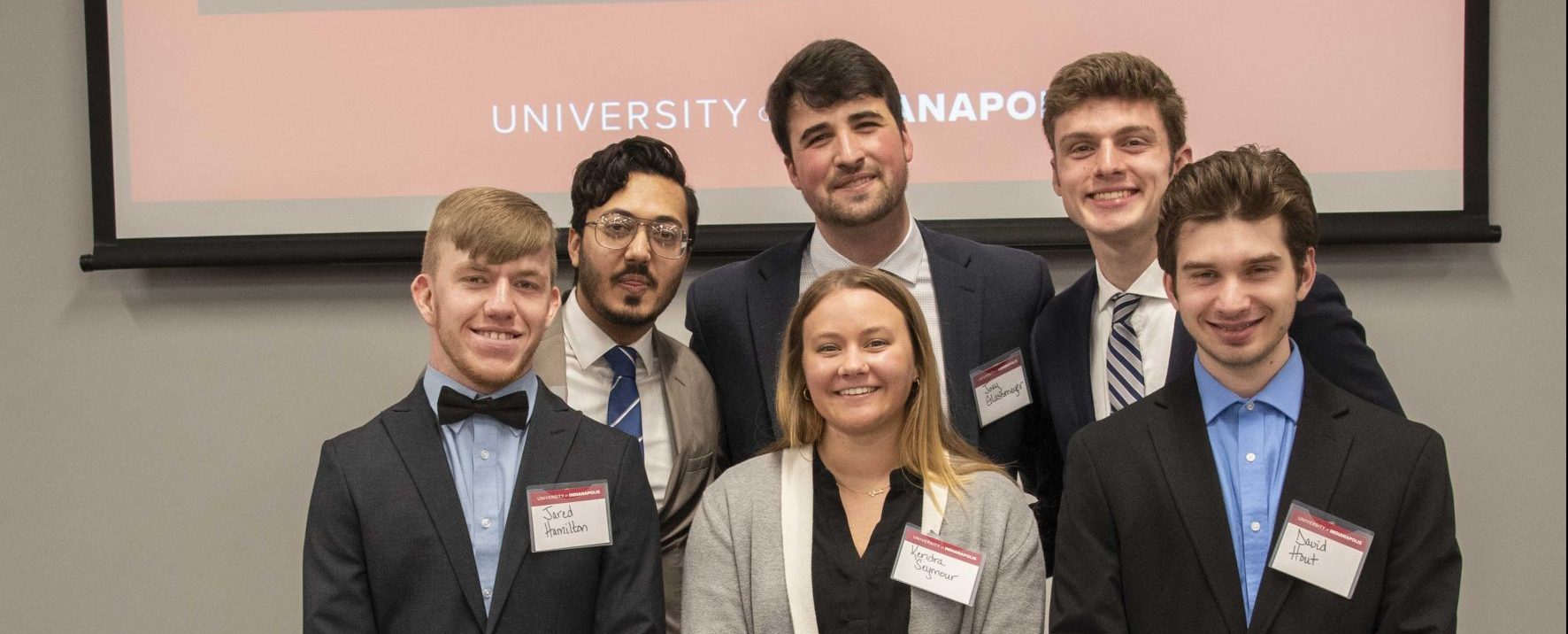 On Tuesday, April 19, the R.B. Annis School of Engineering held its fourth annual Business Pitch Competition. Four teams, composed of UIndy engineering students, designed, produced, and presented products to a collection of judges in an attempt to earn investments, similar to the popular competition show, Shark Tank. The competition was powered by support from Elevate Nexus.
"We at the R. B. Annis School of Engineering took the DesignSpine program, and introduced an opportunity for student teams to develop and design a product of their own, to really develop something they are passionate about," said Dr. Kenneth Reid, associate dean and director for the School of Engineering. " They develop both the engineering and the entrepreneurial components. This gives them a taste of the possibility of being entrepreneurial, perhaps starting a business of their own, or it makes them a much more valuable employee for their future firm."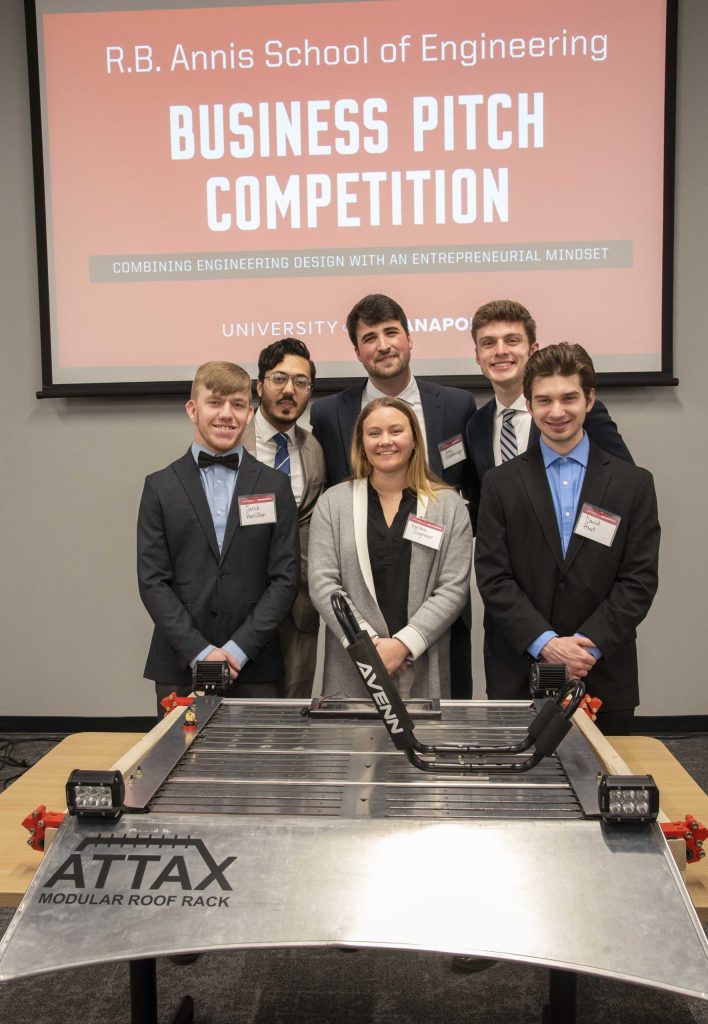 Over the past nine months, each team carefully designed and developed prototypes of the products, thanks to a generous grant from Elevate Nexus. The team then created a marketing strategy that included analyzing industry competitors, determining manufacturing costs and product pricing, and investigating potential sales channels.
"One of the things that we at the School of Engineering try to focus on is distinguishing our engineering students from all other engineering students. You can go to any school and get a technical competency, but for the 21st century, technical skills alone are not enough," said emcee Dr. David Olawale, assistant professor of engineering. "The Business Pitch Competition is a culmination of a nine-month period in which we try to develop the entrepreneurial mindset and competency in our engineering students. I think we've really grown in the past four years and I'm proud of the students."
In order to develop that entrepreneurial mindset, the engineering teams collaborated with students from UIndy's Art and Design program as well as the Master of Business Administration (MBA) program. The art and design students created logos and presentation materials for the engineering teams, while the MBA students assisted with the marketing strategy on the team's products. This collaboration helped to elevate the products and to emphasize the importance of working with professionals from other fields.
Four teams presented their final products during the competition:
Team #6: Barbute Delivery Defense developed an anti-theft package delivery system that could be concealed in patio furniture.
Team #7: Tetra Electronics developed a modular power strip that could be customized to suit the user's outlet needs.
Team #8: Rise 'n Stride developed an electronic walker whose height could be adjusted with the simple flick of a switch.
Team #9: Attax developed a modular car roof rack that could be easily installed or removed.
As part of the competition, the School of Engineering invited faculty and staff from a variety of UIndy departments as well as engineering industry experts to participate as judges. The judges had the opportunity to question teams about their products and marketing strategies to determine which product was the best investment.
After careful consideration, the judges awarded first place to Attax. Tetra Electronics placed second; Rise 'n Stride placed third; and Barbute Delivery Defense placed fourth.
"All the work that went into this project for the last nine months with my teammates was rewarded but we're not done yet," said Sulman Tariq '23 (Mechanical Engineering), who served as Project Manager for Attax. " We already have a plan in the works to present our idea to various investors to continue pursuing our venture so wish us luck!"