Engineering Students Win National Robotics Battle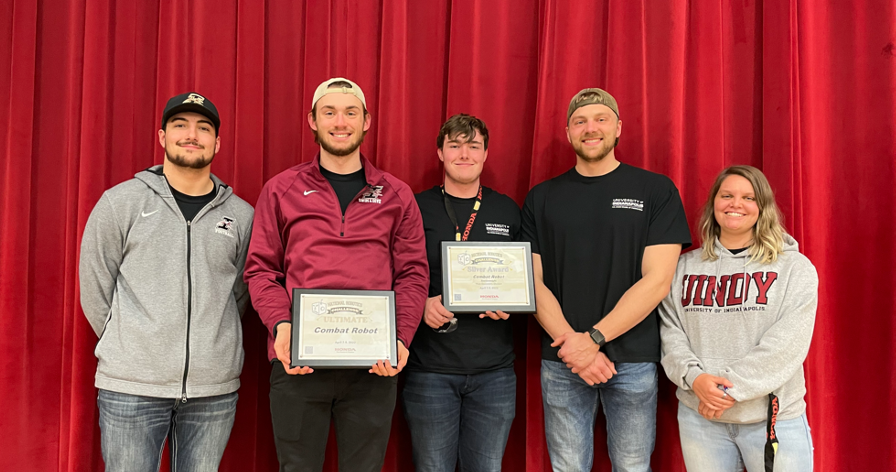 For the second year in a row, a team of students from the R.B. Annis School of Engineering won at the National Robotic Challenge World Championship. This year, the team won multiple awards. The team won the Ultimate Combat Robot Battle Royale, where all battle robots from universities across the nation battled it out in a free-for-all melee. The UIndy Greyhound robot was the only robot left standing at the end of the competition which was hosted in Marion, OH.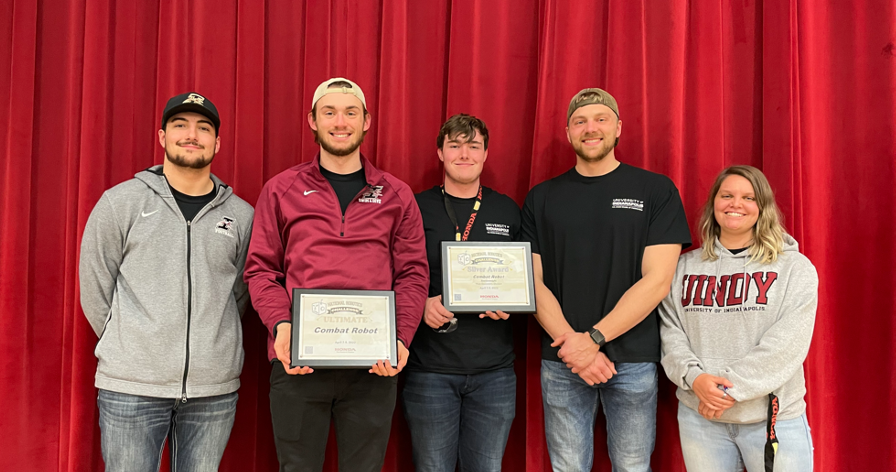 The team was made up of Mechanical Engineering seniors from the R.B. Annis School of Engineering. The Class of 2022 students includes (pictured from left to right):
Samuel Schoonveld
Anthony Williamson
Nathaniel Comley
Dalton Lowry
Shaelyn Starks
The design and fabrication of the robot occurred during a year-long sequence of courses that are part of UIndy Engineering's unique DesignSpine curriculum. The senior-level design course is also the students' "culminating major design experience", often referred to as the "capstone," which as, outlined by the Accreditation Board for Engineering and Technology (ABET), needs to "incorporate appropriate engineering standards and multiple constraints, and is based on the knowledge and skills acquired in earlier course work."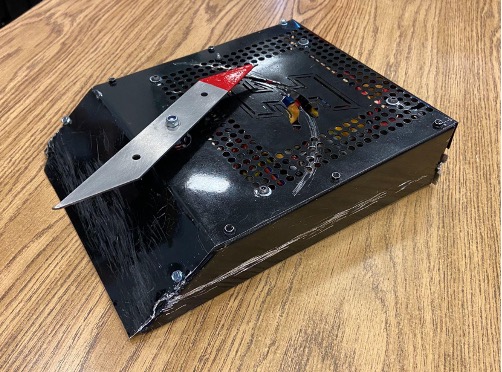 In addition to winning first place in the Ultimate Combat Robot battle, the UIndy team also took home the silver award (second place) in the post-secondary division round of fights in the combat robot competition. In the post-secondary division rounds, UIndy only lost to one team, and that team was the second-to-last team left in the Battle Royale. You can view the battle here. Between rounds, UIndy engineering students used their hands-on technical skills to improve the robot even more and were able to get redemption against their opponents in the final bout.
Samuel Schoonveld was the driver at the competition, and Anthony Williamson was the team captain. In addition to all the faculty and staff at the R.B. Annis School of Engineering that have helped support this team throughout the year, the following faculty, staff, and advisors provided special support:
James Emery, manager of mechanical systems and laboratories
Najmus Saqib, assistant professor of engineering and faculty team advisor
Joseph B. Herzog, assistant professor of engineering and faculty team advisor
Cameron Wright, engineer and external advisor
Ryan Kallenberger, mechanical engineering student employee
Watch the Ultimate combat robot fight below: