Greyhounds Unleash Their Spirit for UIndy Day 2022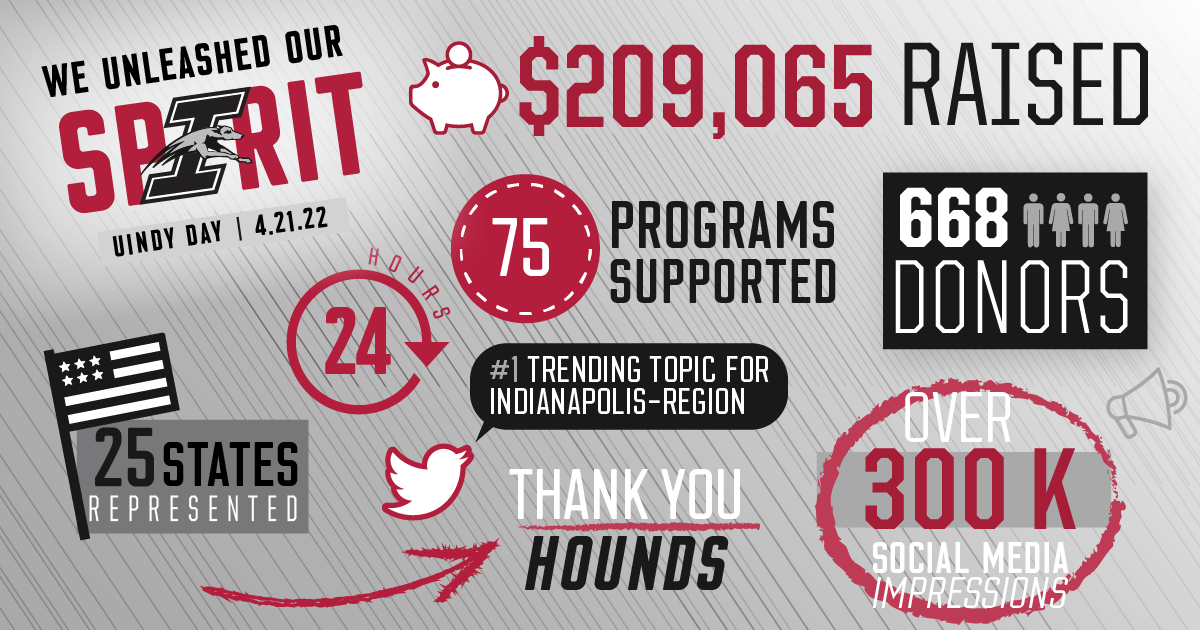 Greyhounds from all across the country came together on April 21, 2022 to celebrate the 7th Annual UIndy Day! Students, parents, faculty, staff, alumni and friends of the University of Indianapolis shared hundreds of photos and memories to show their Pack Pride and supported current and future Greyhounds with a record-breaking $209,065 gifted to 75 UIndy programs!
"I'm so impressed with our Greyhounds for coming together to make UIndy Day a success," said Philip Thornton, Vice President of Development. "With this being my first UIndy Day, I had no preconceived notions of how the day would go. But from the beginning of the day, everyone was excited. There was a great buzz around what could be accomplished. Thanks to our faculty and staff, alumni, and students for sharing their UIndy Day messages on social media, we were able to reach so many more people. We had 150 more donors this year than UIndy Day 2021. I think that can be attributed to our faculty and staff empowering their alumni to help spread the word."
The UIndy community certainly did spread the word about UIndy Day. In fact, #UIndyDay was the #1 trending topic for Indianapolis that day and was used over 1,000 times across Instagram and Twitter.
"UIndy Day has always been about showing the world our Greyhound pride as well as giving back to UIndy to support current and future students," said Lora Teliha, Director of Annual Giving and Development Writer. "This UIndy Day once again proved the strength of our UIndy community, their collective Greyhound spirit, and their eagerness to invest in the future of the University of Indianapolis."
Additional highlights from UIndy Day 2022 include:
Thank you to all those who shared their favorite UIndy stories and memories and made gifts to support our Greyhounds!