Political Science Students Present at Conference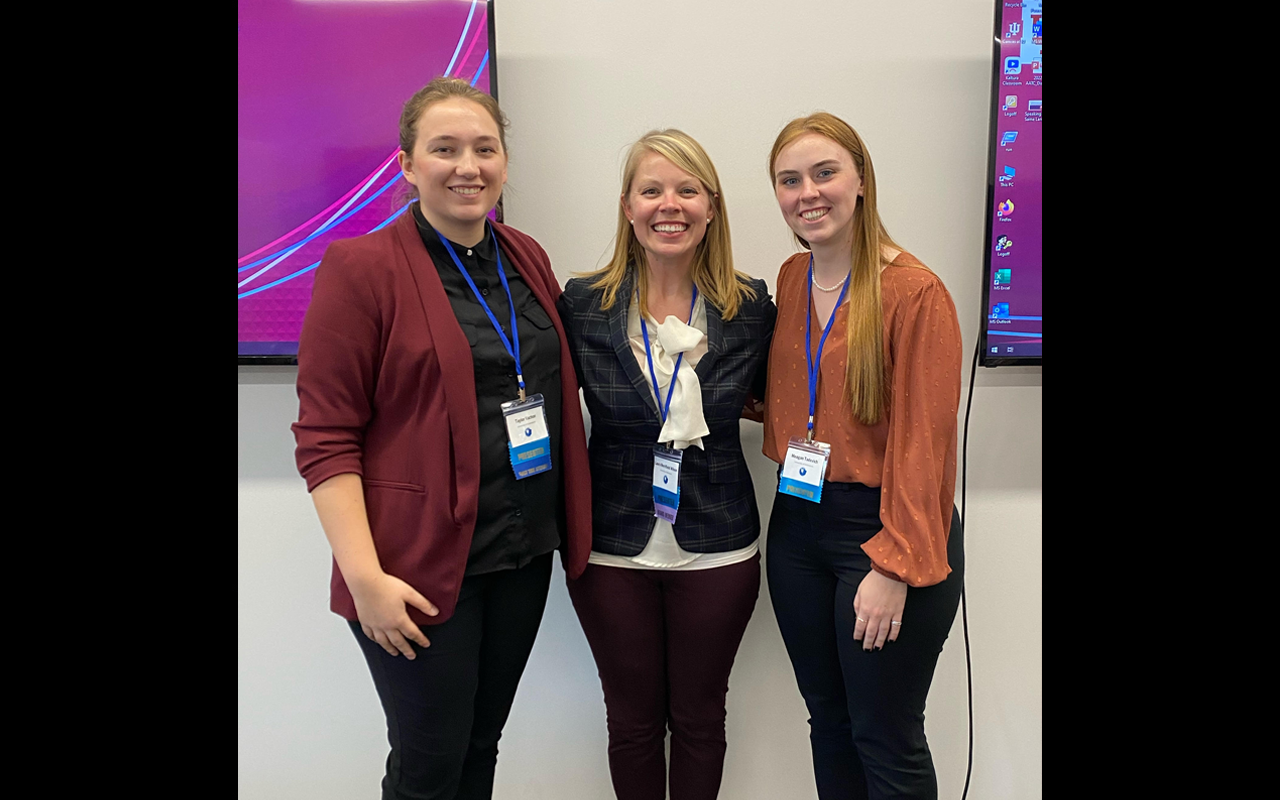 From left to right: Taylor Vachon, Dr. Laura Merrifield Wilson, and Meagan Tadevich
In October 2022, UIndy students Taylor Vachon '23 (History, Political Science, International Relations) and Meagan Tadevich '23 (Political Science) presented at the Indiana Academy of the Social Sciences conference held at IU Northwest in Gary, IN.
UIndy Associate professor of Political Science Dr. Gregory Shufeldt, who worked alongside the students on their respective projects, arranged for them to present at the conference. 
"One of the most rewarding parts of the job is getting to help students identify their own research interests and carry out a project from beginning to end," said Dr. Shufeldt.  "I'm so proud of them."
Taylor presented a poster titled, "Effects of Political Ideology on Group Ideology," consisting of an original survey of more than 1,000 respondents to conclude whether or not Americans make assumptions about the ideology of the groups of people typically associated with each political party.
"My poster was inspired by a lot of my personal experiences where people assume your partisanship or ideology based on surface level things like gender or occupation," said Taylor.
Despite this being Taylor's first conference, many attendees thought that she was a graduate student, and spent time praising her and offering great feedback.
This poster is Taylor's senior thesis for the Ron & Laura Strain Honors College, a program that she recommends wholeheartedly.
"Taking classes through the Honors college has always offered a higher level of challenges and inspired me to think more critically," said Taylor. "Being an Honors student has also provided me with the opportunity to work on a research project, go on study abroad trips, and live in the Honors Living-Learning Community (LLC)."
In addition to the thesis, which also serves as her Political Science capstone, Taylor is currently working on submitting her History and International Relations capstones. After graduation, she hopes to get a job with a government agency and work towards a special agent or analytics job working for the counterterrorism unit.
Meagan presented a paper titled, 'When Push Comes to Shove: Support for a Female President and the 2024 Nomination.' This paper is co-authored with Dr. Ashley C.F. Hutson from Butler University and Dr. Shufeldt, and consists of conducting surveys to determine if voters consider the election of the first woman president to be historically important in the U.S. Meagan presented alongside professors from various institutions, something she felt was an honor as she is currently an undergraduate student.
Meagan is the first author on this paper which is currently under review at a peer-reviewed political science journal for consideration to be published.
"It would be absolutely amazing if this paper could get published," said Meagan. "Not only would it mean that all of our hard work would pay off in a tangible way, but it would also mean there was a scholarly piece in the world of academia with my name on it. That would just be wonderful and, honestly, an honor."
Meagan started this project as part of the Summer Research Institute in May 2022.
"It was three weeks of research, which was a nice way to get a first glance at real world research beyond just what class research projects may have been," said Meagan. "The Institute concluded with presentations of research to the other students who participated, meaning you not only get a chance to present research you are passionate about in a low-stakes environment, but you get a well-rounded group of other student presenters. I heard about everything from nanoparticles to building robots to writing a screenplay. It was really just a wonderful experience and I would fully recommend it."
After she graduates, Meagan hopes to go to law school and eventually practice human rights law and is currently working on her honors project researching the relationship between the supreme court and public opinion.