UIndy-NTU Mentorship Program Connects Greyhounds Around the World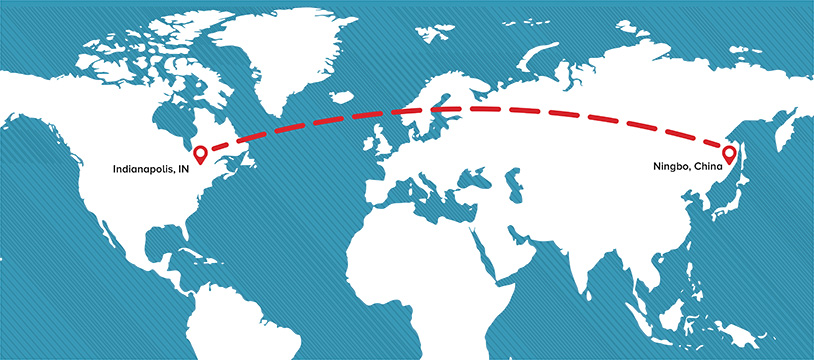 The University of Indianapolis–Ningbo Tech University (NTU) Mentorship Program is an entirely online program which matches UIndy Joint Program students studying at NingboTech University in the People's Republic of China with UIndy students studying at the main campus in the United States.
Dr. Kristine Newton, Instructor of English at UIndy, created the program in 2022 as a way to resolve the feeling of disconnectedness felt by NTU students during the COVID-19 pandemic.
"The goal of the UIndy-NTU Mentorship Program is to connect NTU students with peers outside their own country, cohorts, and cultures, and foster genuine relationships with their UIndy counterparts on the main campus," said Dr. Newton. "I developed this program as a way for all students involved to transcend the physical borders and language barriers that separate them, and exchange information about their backgrounds and experiences, make new friends, and develop positive intercultural attitudes."
This goal is achieved through a mentor-mentee relationship between UIndy students and NTU students in the UIndy-NTU joint-degree program. Throughout the semester, the mentors and mentees meet online to discuss various topics and issues such as study habits, self-care, their post-graduate plans, and more. These discussions allow both the UIndy students and NTU students to learn more about each other's culture and traditions. This year, the program had over one hundred students participate.
Aman Yadav '24 (Computer Information Systems), who also happens to be an international student from Nepal, joined the program as a mentor as a way to practice his communication skills and connect with students from other cultures.
"Being a mentor helped me to connect with students from other parts of the world and learn more about their culture, traditions, and lifestyles," said Aman. "It also helped me to improve my own communication skills, including my English. Perhaps most importantly, I learned how to listen and concentrate on someone's words during our discussion sessions."
Aneek Roy '05 '23 (MBA, Global Supply Chain Management) had a unique perspective on the experience as a UIndy alumnus.
"As a UIndy alumnus who has returned to the school to complete a certificate program, and as someone old enough to be a parent to each of the mentees, I found it illuminating to experience not only differences in culture between the U.S. and China, but also between my generation and a younger generation," said Aneek.
Mentees receive just as many benefits from the program as their mentors. In addition to the one-on-one discussions with their mentors, mentees also take UIndy's ENGL 102 (Introduction to Literature) course and participate in the UIndy Writing Lab Conversation Circles.
Zeyuan Niu '23 (Finance) has truly enjoyed the cultural exchange between them and their mentor.
"The meetings with my mentor exercises my language skills, so that I can communicate with others more fluently in English," said Zeyuan. "The program has also enriched my impression of UIndy. In our meetings, we discussed the campus life of my mentor in UIndy and the many American festivals, such as Thanksgiving and Christmas. My mentor showed me her Christmas tree at home for Christmas. China and the United States have different winter traditions. In China, the day is a consumption festival just like Black Friday in the U.S. I also introduced my mentor to the Chinese social media platform, Wechat, and we added each other as friends. My mentor then shared her TikTok videos with us."
Due to the overwhelming positive response from mentors and mentees alike, the program plans to resume again next year. Dr. Newton hopes to see the future continue to grow from there.
"I see this program growing by leaps and bounds in the future," said Dr. Newton. "My hope is to expand this program from its current length of one semester to a year-long program. I would also like to collaborate with more UIndy departments and recruit mentors from all the different majors at UIndy. Eventually, I would like to expand this program to include both on and offline activities."
The program will need additional mentors from the main UIndy campus to participate next semester. Que Jones '23 (Social Work) joined to try something new and highly recommends volunteering as a mentor.
"I would absolutely recommend becoming a mentor," said Que. "It's not very time consuming like some people may think, and the reward is great. Not only will the mentor benefit from the program, but it also affects the lives of the mentees knowing that they have made another reliable connection in the U.S. I feel like I have been afforded the opportunity to mentor people who may change the world one day. What an amazing experience."
Aman and Aneek echo Que's sentiment and call upon every UIndy student who is interested and able to join as a mentor to do so.
"Being a mentor would be a great chance for international students to interact and socialize with their faculty and fellow students," said Aman.
"Not only is it an excellent learning experience for the mentor and mentees alike, it's also a great way to develop leadership skills," said Aneek.
UIndy students can begin applying to participate as mentors at the beginning of the fall semester in 2023. Keep an eye out during Welcome Week 2023 for more information from Dr. Newton.
You can learn more about the UIndy-NTU Mentorship Program, including the application process for mentors, at https://uindy.edu/center-for-global-engagement/international-partnerships/ntu-mentorship.