Tips & Advice from UIndy Admissions Counselors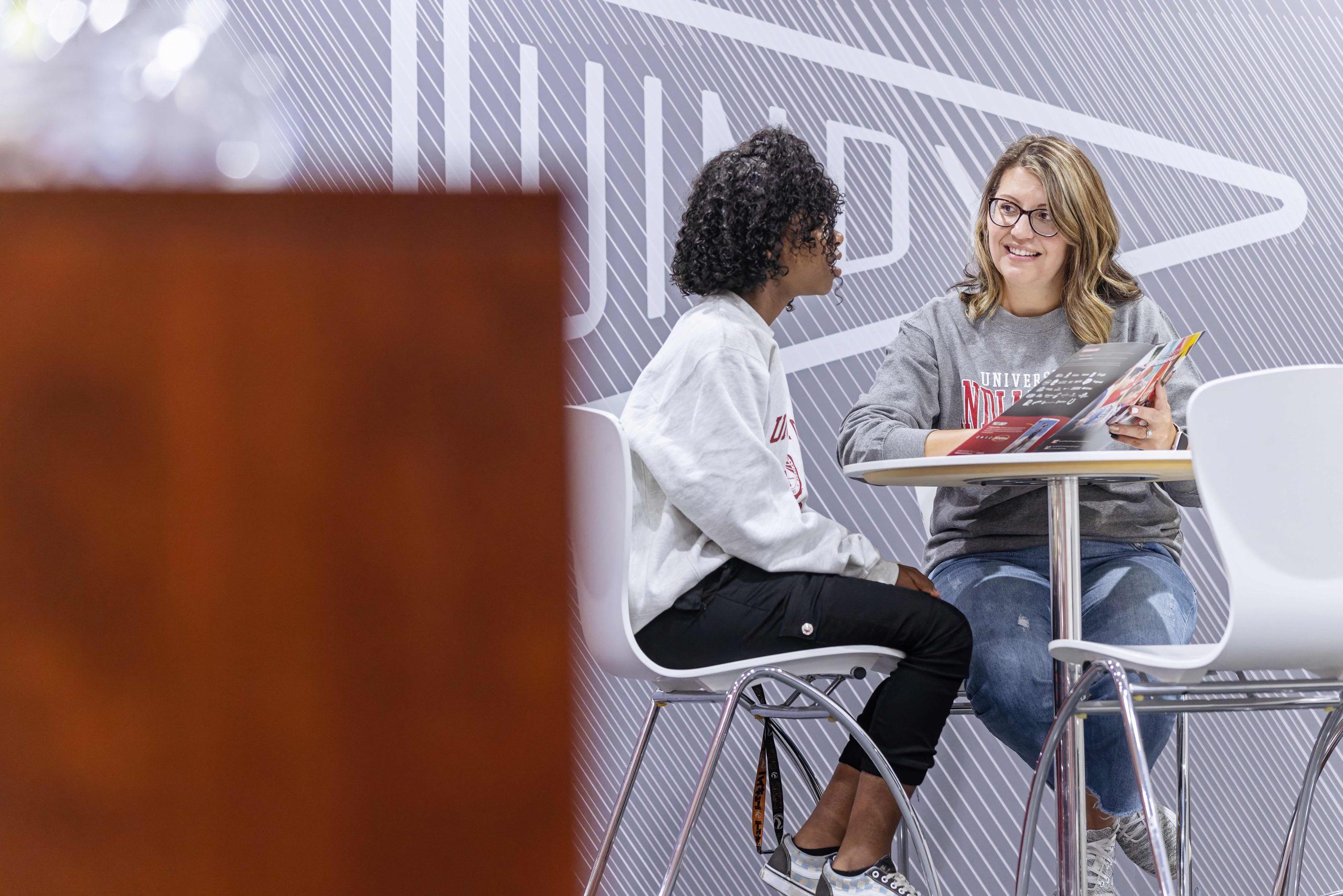 Applications have been pouring into the University of Indianapolis' admissions office since the beginning of the academic year. So what can students do to help their chances when it comes to getting admitted? Here to offer some tips to hopeful Greyhounds are Megan Godsey, Associate Director of Admissions, and Emily Hancock, Senior Assistant Director of Admissions.
Apply Early
Applying to UIndy is free, and because the process has mostly moved online, applying can take less than thirty minutes. And it's better to apply early than to wait, said Emily. "The longer you wait to apply, the more steps you have to cram into a shorter amount of time. It's really stressful for students." Applying early and working through the enrollment process at a slower pace will ensure that you have time to work closely with your admissions counselor and ask all of the questions you have.
The admissions counselors are also very efficient when it comes to making an admissions decision—the turnaround time after receiving an application is around 2-4 weeks, so students don't have to wait long before they know whether or not they were accepted. The way students are notified is also personalized, according to Megan. "Each of us has our own way of extending congratulations to the student. I send a congrats video along with an email, so they can actually see my face and make that connection."
Get Experience and Get Personal
Having experience in different backgrounds is a good thing! For example, UIndy is a test-optional school, meaning that there is no requirement to submit ACT or SAT scores. "We know that students are more than what a test can determine," said Megan. However, they still recommend taking these tests for the experience you will gain—and having good scores can also help your chances of admission if your grades are on the lower end. Also, one of the best things you can do to help your chance of getting admitted is to build a relationship with your counselor so they get to know you and your background better and can attest to your readiness to become a Greyhound.
Have a Letter of Recommendation Ready
Both Megan and Emily agree that having a letter of recommendation can greatly help a student's chances if their application needs supplemented. Megan states that letters of recommendation should be written by an employer, counselor, teacher, coach, or someone similar. "A professional who can speak to your abilities," Emily added. Having a letter of recommendation ready to go can also come in handy when applying to certain scholarships or special programs at UIndy.
Listen to Your Gut
While getting through the application process is important, Emily and Megan agree that it is equally as important to make sure the college you apply for is a good fit for you—and one of the best ways to do that is to visit the campus! "You will get that gut feeling about whether or not you feel comfortable on campus and if you can see yourself walking to class or being friends with the people that you meet. I think that holds a lot of weight," said Emily.
Research Campus and Know What's Important to Your College Experience
And why should students choose UIndy? "What sold me was the intimate learning environment. I liked knowing that my professors would know who I was," said Megan, a UIndy graduate herself, who goes on to praise the community feel that surrounds the University. Emily said her selling point is location. "UIndy is close enough to downtown that when you want to go to Mass Ave for dinner or go to a concert at Gainbridge Fieldhouse, you're close enough to do that, but far enough away that when it comes time to buckle down and focus on your academics, you're not distracted by anything." Both also agree on the opportunities available to students, like career counseling through the Stephen F. Fry Professional Edge Center, internships, and just the general support services available on campus.
Don't Stress—Talk to Your Counselor!
Try not to stress too much about the processes and the future. If you don't know what major you want to declare yet, that's okay! "Some students get overwhelmed by the whole process and don't know where to start. And it starts by just getting the application out of the way," Emily advised. Just get your foot in the door—UIndy offers options for students who aren't sure on a major, and sometimes it can be good to explore your passions before making your decision. Counselors are also assigned to each student in case of any questions or advice they might need when looking at and applying to colleges, so you will always have someone in your corner looking out for your best interests.
Ready to take the leap and become part of the Pack? Apply for admission today!