UIndy Student-Run Magazine Etchings Celebrates 35th Anniversary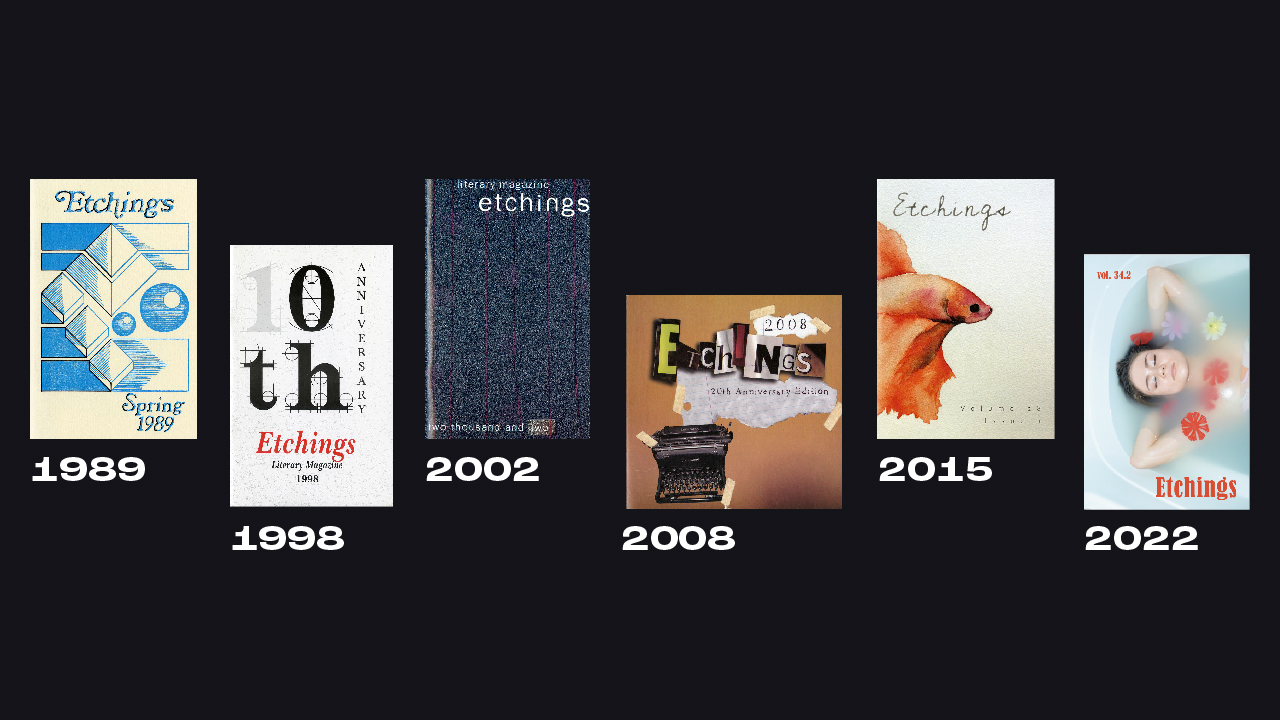 The University of Indianapolis student-run literary and fine arts magazine, Etchings, is celebrating its 35th anniversary this year.
Established in 1989, Etchings is a revamped version of the original UIndy student-run literary magazine, Tusitala. The name "Etchings" was chosen based on the results of a student survey.
Etchings publishes two issues per academic year, one per semester, with submissions from the UIndy community, including current students, alumni, faculty and staff. Students enrolled in ENGL 379 are responsible for collecting and assessing submissions, editing submissions for publication, marketing the literary magazine throughout the year, and launching each issue of Etchings.
Hope Coleman '21 (Creative Writing) joined Etchings both to learn more about the publishing industry and to "get a closer experience with the creative talent at UIndy." Coleman now works as a Library Assistant in the IPM Library at Eli Lilly.
"Etchings helped me immensely with my current job," said Coleman. "Learning how to properly manage all of the raw files that needed to go into the manuscript and create new Excel sheets each week for the staff translated very well into office work and database management at my current position. Additionally, spending time in a leadership position on the Etchings staff prepared me to take the lead in meetings and special projects at work that have progressed my career."
Ali Viewegh '23 (English) was on the staff of Etchings for issues 34.1, 34.2, and 35.1. She also joined as a way to experience the other side of being a writer: publication.
"I joined because I like writing, especially poetry and short stories," said Viewegh. "I think being a part of a magazine and understanding behind-the-scenes of the submission process is incredibly important. I wanted to see that side of it to learn more about it and my own writing."
Liz Whiteacre, Associate Professor of English, and Kevin McKelvey, Professor of English, alternate as faculty advisers to Etchings Press, the student-run publisher of Etchings.
"Professor McKelvey and I work as a team to coordinate executing the vision and mission of Etchings Press," said Whiteacre. "That vision and mission are defined by the students and the creative community on campus of the moment."
Over the past five years, Etchings has developed a number of interdisciplinary relationships on the UIndy campus. While housed in the Department of English, Etchings collaborates with students and faculty from the Department of Music and the Department of Art & Design.
For example, Etchings collaborates with Sarah Pfohl, an assistant professor with the Department of Art and Design, to enhance published works.
"The magazine has a tradition of publishing a short story and poem, which receive departmental awards from the English Department based on the opinion of third-party judges in the spring," said Whiteacre. "The last two falls we've worked with Assistant Professor Sarah Pfohl, who will incorporate the short story and poem into her photography classes as an opportunity for her students to learn about illustration. Her students are invited to submit photographs that they feel illustrate the works and then the Etchings student editors choose which to publish."
"The campus community is very supportive of Etchings," added Whiteacre. "We're thrilled to have cheerleaders from so many different faculty and staff that support us."
Etchings has also expanded its submission categories to include audio, both musical compositions and spoken word. This expansion was made possible thanks to new technology and website options.
To commemorate its 35th anniversary, issues 35.1 (published in Fall 2022) and 35.2 (to be published in April 2023) feature interviews with former Etchings advisors and poets, Elizabeth Weber and Alice Friman. Weber also served as judge for the Dorlis Gott Armentrout Award for issue 35.1, and Friman will judge the upcoming contest for 35.2. All undergraduate students who have written pieces being published are automatically entered.
Etchings will also host a launch party for issue 35.2 in April 2023.
Looking ahead, Whiteacre is excited for opportunities provided by new technologies and new perspectives brought to Etchings by UIndy students each semester.
"I have no doubt that Etchings Press and its magazine will continue to evolve with new technologies in the next five years, and it is my hope that students in ENGL 379 will continue to seek out new ways to engage with populations on campus," said Whiteacre. "For example, recently, staff in ENGL 379 has made an effort to reach students writing in languages other than English; students writing short, creative scenes; students composing and recording songs and spoken-word poems; and, as always, new styles of art and literature."
While her senior semester schedule prevents her from being on staff of 35.2, Viewegh plans to stay involved as a reader and contributor. Having been a senior member of the magazine, she hopes to see the magazine continue to grow and share even more voices from across the UIndy community.
"I love the growth that I've seen over the past few years," said Viewegh. "One of the things that I would like to continue seeing done with the magazine is inviting more people from across campus to submit to the magazine, especially our UIndy alumni."
Any undergraduate or graduate student, regardless of major or program, can join the staff of Etchings by enrolling in ENGL 379: Etchings Magazine (provided they have completed ENGL 101). Students interested in participating in the literary prize (held in the fall semester) or book prizes (held in the winter semester) can enroll in ENGL 479: Etchings Press.
"Etchings was one of the most rewarding experiences I had during my time at UIndy," said Coleman. "Being on staff not only gave me a great wealth of knowledge and examples of professional work, but also helped me make lasting connections with other students and professors in the program. I am forever grateful to Professor Whiteacre and Professor McKelvey for the impact that they and Etchings have had on my life. Looking back, being on staff was one of the most rewarding times in my life."
You can read past issues of Etchings online at https://etchings.uindy.edu/etchings-literary-journal/.
Etchings 35.2 is accepting submissions from Greyhounds until Jan. 31, 2023, and will be published in April 2023. Submit your work at https://etchings.submittable.com/submit.
Photo credit: Adam Fernandes '22 (Art & Design)