Indiana Supreme Court Comes to the University of Indianapolis for Traveling Oral Argument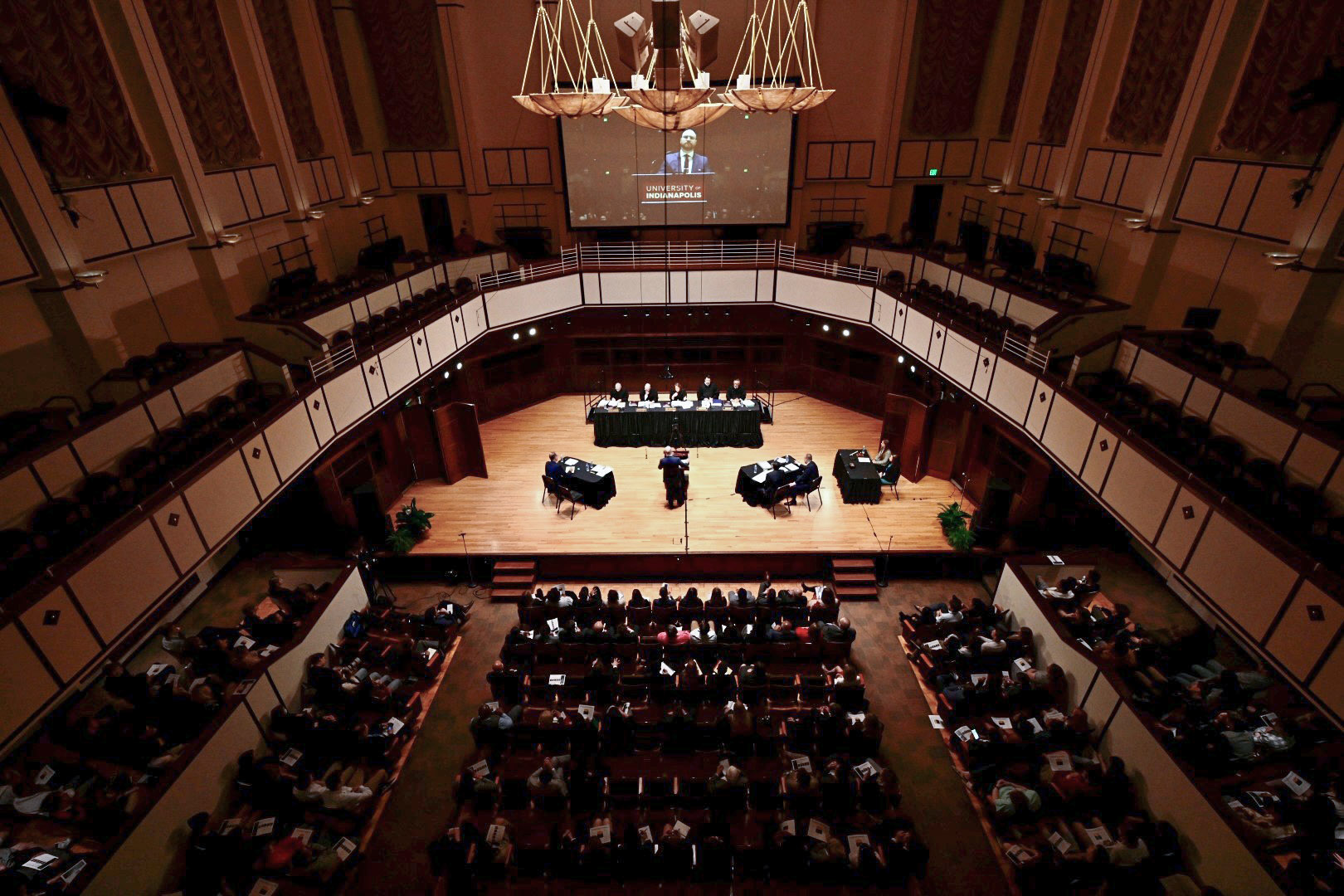 The five Indiana Supreme Court Justices—Justice Geoffrey Slaughter, Justice Mark Massa, Justice Derek Molter, Justice Christopher Goff, and Chief Justice Loretta Rush—came to the University of Indianapolis on Tuesday, April 11th for their Traveling Oral Argument. They were joined by Cathedral High School, Central Grove High School, Franklin Central High School, Indianapolis Metropolitan High School, New Palestine High School, Purdue Polytechnic High School, and students from the University of Indianapolis.
The argument was introduced by a welcome from Interim President Phil Terry, in which he encouraged the visiting high school students to explore campus and to stop by the Office of Admissions for a campus tour. Interim President Terry praised the attendees for choosing the University to host the argument and said, "Through your support, you are providing our students and community the chance to see the judicial process in action." Ruth Lilly Performance Hall was filled with eager students ready to watch democracy at work.
Dr. Laura Merrifield Wilson, Associate Professor and Pre-Law Advisor in the Department of History and Political Science at the University of Indianapolis, said, "The event was a remarkable and unique experience for our students to get to see the actual process of the law and justice play out in front of their eyes. It brought government and public policy to them, making it an engaging and enriching experience."
Meagan Tadevich '23, honorary bailiff and political science major at the University of Indianapolis, said, "This experience was unlike any other. It was eye-opening to be able to see the inner workings of our judicial system be so open and so engaging with students of all ages. Learning about these systems from a textbook is one thing, but to be able to experience them and really engage with these incredibly important, high-ranking professionals in the field on such a personal level is unreal. I am so thankful for this opportunity, and it has only furthered my love of the legal field." Meagan will be attending Indiana University McKinney School of Law this upcoming fall in Indianapolis.
The Oral Argument before the Court was from Keller J. Mellowitz v. Ball State University, Board of Trustees of Ball State University, and State of Indiana.
After the council finished their arguments and rebuttal, students and other attendees were able to ask the Indiana Supreme Court questions. Students asked about terminology used in the oral argument, the different paths the Justices took to become members of the Indiana Supreme Court, and one specific question for Chief Justice Loretta Rush inquired about the struggles she has faced as Indiana's first female Chief Justice. Students also expressed their interest in local government, and Justice Massa encouraged these students by saying, "Don't be afraid to get involved in politics; it's the only thing we have that keeps the government accountable."
The Indiana Supreme Court is currently deliberating on their decision.