Professor honored among 'Living Legends'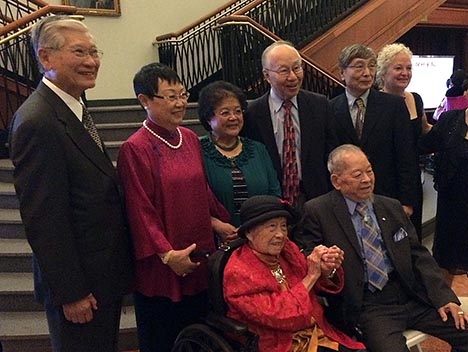 UIndy Professor Phylis Lan Lin, second from left, poses with fellow honorees at the 10th anniversary gala of the Indy Asian American Times newspaper.
Professor of Sociology Phylis Lan Lin was honored recently among the "Living Legends of Indiana's Chinese-American Community" for her contributions to education and international cooperation.
The honorees were recognized during the 10th anniversary gala of the Indy Asian American Times newspaper at the Indiana History Center.
Dr. Lin came to the United States from Taiwan in 1966 and joined the UIndy faculty in 1973. Her many responsibilities include serving as executive director of the University of Indianapolis Press, director of Asian Programs and associate vice president for International Partnerships. She also spearheaded the establishment of UIndy's Social Work program, which is now an academic department that bears her name.
She was introduced at the event by her daughter Toni Lin, a local surgeon, who described her mother as a prolific author and organizer of international symposia who lives by the principle of "VIP": vision, integrity and passion.
"She is living proof that an Asian-American female can rise to become a leader and an amazing role model for her daughter and community," Toni Lin said.
Professor Lin also received a letter of congratulations from Lt. Gov. Sue Ellspermann.
Video from the event can be seen here.