Nearly 1,000 serve city on Super Saturday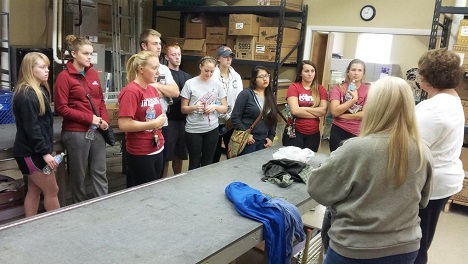 UIndy student volunteers prepare to perform interior maintenance Saturday morning at the St. Vincent de Paul food pantry on East 30th Street.
See photos and messages on Twitter
See Friends of the White River story and photos
More than 900 University of Indianapolis students, faculty and staff members donated their time and effort Saturday to benefit community groups, nonprofit organizations and public spaces and events throughout the city.
UIndy's annual Super Saturday of Service was bigger than ever this year, encompassing more than 30 sites. The event is designed to introduce students, especially freshmen, to a key element of the university culture, as reflected in its longtime motto of "Education for Service."
Worksites included the Indianapolis Cultural Trail, where 40-plus volunteers spruced up the area; Westminster Ministries on the near east side, where more than 40 volunteers cleaned and organized; the Fountain Square Art Fair, where about 50 volunteers helped to set up the event; the Indiana Youth Group on the east side, where 20 volunteers raked and planted; and University Heights Neighborhood Park, where more than 100 volunteers performed cleanup and landscaping chores.