Trustee Daniels named to Indiana Academy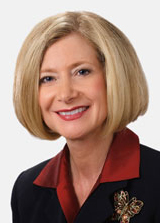 University of Indianapolis trustee Deborah Daniels has been inducted into The Indiana Academy in recognition of her personal achievements and contributions to the Hoosier state.
The honor is awarded by the Independent Colleges of Indiana, a nonprofit association that represents the state's 31 private nonprofit colleges and universities, including UIndy. The induction took place last week at the academy's 44th annual symposium in Indianapolis.
Daniels is a partner in law firm Krieg DeVault, with extensive experience in criminal and civil investigations and corporate compliance. Her career previously included terms as a U.S. attorney of the Southern District of Indiana and an assistant attorney general with the U.S. Department of Justice, both presidential appointments. At the Department of Justice, she won multiple awards for her management abilities and her work on behalf of crime victims.
Daniels joined the UIndy Board of Trustees in 2007 and is active on its Campus Life Committee. She chaired UIndy's most recent Presidential Search Committee, resulting in the selection of President Robert L. Manuel in 2012 after a national search. She later chaired the Inauguration Committee.
She is a former president of the Sagamore Institute for Policy Research and remains active in the United Way of Central Indiana, Greater Indianapolis Progress Committee, Economic Club of Indiana, the Health and Hospital Corporation of Marion County, the National Center for State Courts, Indianapolis Bar Association, American Bar Association, American Health Lawyers Association, National Association of Former U.S. Attorneys, Council for Excellence in Government, National District Attorneys Association, U.S. District Court Magistrate Selection Committee, the Harvard University Kennedy School of Government's Ash Institute for Democratic Governance and Innovation. She recently co-chaired the capital campaign for the Sidney and Lois Eskenazi Hospital.
Modeled after The French Academy, The Indiana Academy was established in 1970 by the Independent Colleges of Indiana to recognize individual leadership, achievement and philanthropy designed to promote the advancement of the state, as well as its independent sector of higher education. It is supported by a generous and enduring gift from the Tony and Mary Fendrich Hulman Endowment Fund and Academy members. A list of active members is here.