Lawrence teen earns Lugar leadership award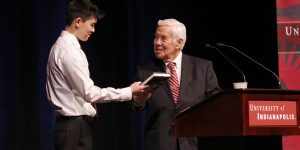 Lawrence North High School student Edric Zeng has been chosen to receive the 2014 Richard G. Lugar Distinguished Student Leadership Award, presented annually to an Indiana high school senior by the Lugar Academy at the University of Indianapolis.
Former Senator Lugar, a distinguished professor of political science and international relations at UIndy, will present the award to Zeng on Dec. 6 during the 38th annual Lugar Symposium for Tomorrow's Leaders at the university. Founded in 1977, the event gives top high school juniors from around the state – as many as three per school – an opportunity to hear a keynote address on world events from Lugar and explore pressing public issues through expert-led small-group discussions.
Zeng, the son of Hyeonsook Lee of Indianapolis and William Zeng of China, was among the hundreds of Indiana students who attended last year's symposium and were invited to apply for the leadership award, which includes a $1,000 cash prize. The recipient must have a minimum 3.0 cumulative GPA and demonstrate leadership skill and a commitment to serving others.
This year's recipient far exceeds those requirements. One of the top students in his class, Zeng is student body president and has been president of his class since freshman year. He is a varsity swimmer and a member of the speech team, National Honor Society, Hispanic Honor Society and National Technical Honor Society. He also volunteers at Community North Hospital and serves as president of Lawrence North's Key Club, distinguishing himself through his leadership of service projects including blood drives and the stocking of the school's food pantry.
"Lawrence North High School is fortunate to have him as a student leader," Principal Brett Crousore wrote in his nomination letter. "This young man does not do things to make a name, nor to gain recognition. He leads because it is a part of his character."
In his own application essay, Zeng discussed the qualities required for effective leadership.
"To me, being a leader is about inspiring people to unite, to work in collaboration, even if that means admitting I'm not the best and that I can't do it by myself," he wrote. "Being a good leader is about having the humility to acknowledge and learn from your failures."
About UIndy's Lugar Academy
The Richard G. Lugar Academy at the University of Indianapolis builds on Senator Lugar's legacy of service and leadership through several programs for high school and college students, including the annual Lugar Symposium for Tomorrow's Leaders; ongoing lectures and events in Indianapolis and Washington, D.C.; and the Washington Semester, a high-level study and internship experience in the nation's capital that is open to students from any college or university. More information is available at www.uindy.edu/lugar.