Service-Learning Symposium set for May 28-30
Sixth international event, to be hosted at UIndy, carries global theme
Academics, students and professionals from around the world will gather May 28-30 at the University of Indianapolis for the sixth International Symposium on Service-Learning, co-hosted by South Africa's Stellenbosch University and co-sponsored by Indiana Campus Compact and Bellarmine University.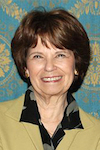 Under the theme "Service-Learning as a Global Movement: Transforming Communities & Higher Education," this year's symposium aims to promote global citizenship and the scholarship of engagement, with a focus on building transnational relationships and participation in service-learning. Related activities begin May 27 with a pre-conference session, service projects, a peace service and an opening ceremony.
This year's keynote speakers are:
Garmann

Barbara Ibrahim, Ph.D., founding director of the John D. Gerhart Center for Philanthropy and Civic Engagement at the American University in Cairo and member at the Institute for Gender and Women's Studies.

Gerburg Garmann, Ph.D., assistant dean of Assistant Dean of Interdisciplinary Programs & Service Learning at the University of Indianapolis.
The International Symposium on Service-Learning was launched in 2005 at Stellenbosch University in South Africa and since been conducted in Indianapolis; Athens, Greece; and Ningbo, China. This year's event also is supported by VisitIndy.com and Follett Bookstores.
Early-bird registration continues through Feb. 25. More information is available at www.uindy.edu/issl2015.