Science magazine features UIndy forensic work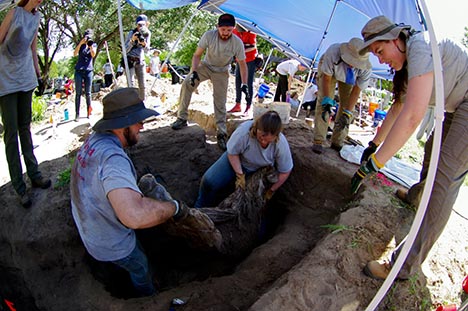 UIndy's forensic anthropology team exhumes a body last year in southern Texas.
As the field team from UIndy's Archeology & Forensics Laboratory prepares for its third trip to Texas to help identify the remains of missing migrants, its work is featured in this month's issue of Scientific American magazine.
A package headlined "The Mystery of Case 0425" explores the story of Maria Albertina Iraheta Guardado of Honduras, a 37-year-old mother of six who is the first person to be identified after being exhumed from a pauper grave in Falfurrias, Texas. Her remains were among hundreds that the UIndy team has exhumed during its past two summer trips to rural Brooks County, where a consortium of universities is assisting local authorities in identifying and repatriating people from many nations who die in the arid ranchlands after crossing the U.S. border.
Quoted extensively in the piece is team leader Dr. Krista Latham, associate professor of Biology and Anthropology, director of osteology for the Archeology & Forensics Lab and director of the Molecular Anthropology Laboratory. The magazine is available for purchase at newsstands and at this link. Latham reflects on Case 0425 in a new entry on the forensics team's blog.
By now, most of the unidentified remains in Sacred Heart Burial Park have been exhumed and are awaiting further analysis at the participating universities. On this upcoming trip from June 8 to 20, the UIndy team is returning at the request of the Brooks County Sheriff's Office to teach members of the Texas State Guard how properly to recover bodies, an ongoing challenge. During the first week, the team also will work with the South Texas Human Rights Center, a humanitarian organization that assists lost migrants and is active on related issues.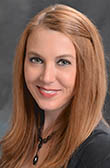 "That will be a way to get more information about the struggles these people are facing," Latham says. "It will be a nice full circle for the students to better understand this crisis."
Returning to Texas next week will be two veterans of past trips, grad students Ryan Strand and Justin Maiers. New on this trip will be Amanda Khan, who like the others is pursuing a master's degree in Human Biology.
The UIndy team will spend its second week at Texas State University near Austin, one of the main repositories for migrant remains discovered in southern Texas. There they will lend their expertise in skeletal analysis to the identification effort.
Read the history and follow the team's progress at beyondborders.uindy.edu.